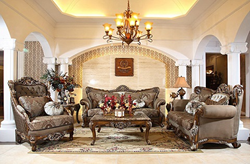 In addition to being remarkably different in their appearance, antique sofa sets also frequently include pieces that aren't typically included with contemporary sets, like divans or fainting sofas.
(PRWEB) January 10, 2014
HomeThangs.com – the Online Home Improvement Store has made their goal to deliver the right product to the consumer. With that in mind, shopping and home design tips, as well as special product selections are being introduced.
A sofa set or sectional is the centerpiece of any living space, so to create a classic, old world look, it's important to choose furniture that's bold enough to carry the style. Often antique accent chairs are used to add a little traditional flair, but for a large living room, a full antique sofa set is the best way to solidify that opulent, traditional look and feel. HomeThangs.com has introduced a simple guide to a few important features to look for in a high quality antique replica.
Antique styled sofas are almost always more ornate than contemporary models, not the least because wood trim, wood legs, wood arms, and other carved wood accents are much more common. These decorative pieces are designed to accentuate the curved edge of the sofa back, the fronts of the arms, and the bottom edge beneath the seat and are a hallmark of antique design.
Contemporary sofas often sit flat on the floor, but antique sofas are frequently raised up on carved wood cabriole style legs or bun feet. It's a seemingly small difference that hugely alters the appearance of the sofa, in part because it's so uncommon in contemporary design. Even modern sofas that have legs are usually only raised a few inches off the ground, while antique sofas can actually get quite a bit of lift.
Antique sofas also often have richer, more ornate upholstery than contemporary styles. While leather, suede, and cotton or polyester upholstery are pretty common in modern sofas, antiques use materials that are more lush and tactile, like velvet, brocade, silk, and even embroidered fabric. Many of the antique replicas from AFD even use multiple different kinds of fabrics on the inside and outside of the sofa and on the individual cushions, as well as fine details like tufted buttons or nailhead accents, to create an elaborately detailed, coordinating pattern that's both intricate and eye catching.
Another major difference between antique sofas and contemporary ones is the cushions. These days, the cushions are often built directly into the back and seat of the sofa as a single solid piece. Throw pillows might be used as an accent, but aren't usually an integral part of the sofa structure. In contrast, antique sofas are more like benches with padding: there's a large cushion shaped to fit the seat and padded arms, but the back of the sofa is generally only lightly padded, if at all, and accentuated by thick, cushy pillows made of mixed and matched upholstery.
In addition to being remarkably different in their appearance, antique sofa sets also frequently include pieces that aren't typically included with more contemporary sets. Most include the standard sofa and loveseat sized pieces, but many also include high backed arm chairs with ottomans, elegant benches, or even fainting sofas, divans, or chaise lounges.
To see more gorgeous antique replica sofas, check out the full article here.
HomeThangs.com is not only a home improvement superstore, it also provides expert design tips and a comprehensive shopping guide, taking the ideas from professional interior designers, and offering tips to the consumers on how to pick the products to best suit their needs.