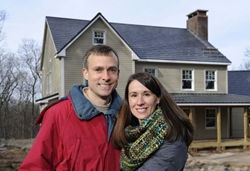 We are very pleased to have our high-quality roof serve as a crucial component of this award-winning home and we are happy to provide this roofing option for any customer looking to make their home more energy-efficient. - Mike Gonet
East Berlin, CT (PRWEB) August 18, 2016
Classic Metal Roofs, LLC has installed the metal roofing on the home recognized as the most energy-efficient residence in North America. The home has received numerous acknowledgments from agencies, such as the United States Department of Energy, the Connecticut Green Building Council, and Green Builder Magazine.
The metal roofing used on the home is made of 95% recycled material here in the United States. The aluminum roof is completely recyclable and has a lifespan of over 75 years. The roof is able to withstand winds of up to 120 mph. It also features two water control layers beneath, which allow the condensation on the sheathing to evaporate.
The home meets all of the Department of Energy requirements to be considered a Zero Energy Ready Home. The home also achieved platinum-level LEED status as well as the emerald level of the National Green Building Standards, as established by the National Association of Home Builders. "We are very pleased to have our high-quality roof serve as a crucial component of this award-winning home and we are happy to provide this roofing option for any customer looking to make their home more energy-efficient," said Mike Gonet, the senior partner of Classic Metal Roofs, LLC.
To be considered a Zero Energy Ready Home, a house must meet all of the requirements of the ENERGY STAR Certified Homes Version 3.0, in addition to all of the requirements of the Environmental Protection Agency's Indoor airPLUS program. It must also meet additional requirements regarding hot water distribution, insulation, and solar electricity. Classic Metal Roofs, LLC's energy-efficient roofing was specially set in the home with the rafters and insulation to avoid the formation of ice dams, making this home ideal for winter weather conditions.
For more information on this award-winning home, as well as on the roofing options available from Classic Metal Roofs, LLC, visit http://www.classicmetalroofs.com or contact the office directly at (866) 660-6668.
About Classic Metal Roofs, LLC.
Exclusively a metal contractor, Classic Metal Roofs, LLC is an EPA lead-safe certified firm providing energy-efficient roofing. All of their work is completed by their own highly-trained employees. Classic Metal Roofing LLC is a proud member of the Metal Construction Association, the Metal Roofing Alliance, and the American Institute of Architects.