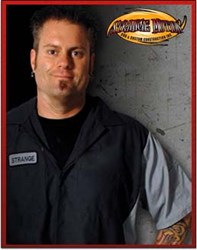 The Classic Car Cruise where it is all about the car.
Lithia, FL (PRWEB) August 14, 2013
The Classic Car Cruise is excited to announce that Tim Strange, host of Spike's TV show "Search and Restore" and Powerblock TV, will be "Cruisin" and will also be hosting seminars as well as being our celebrity guest judge at the only "virtual car show" at sea. Tim is a world renowned car builder and has won numerous national awards for his cars.
The Classic Car Cruise will be departing from Miami, Florida on February 8th through February 15th, 2014 aboard the Celebrity Reflection and will visit locales in the Eastern Caribbean. CruisePlanners will make a donation to America's VetDogs for each person joining the Classic Car Cruise.
The Classic Car Cruise "where it is all about the car" brings car lovers from all over the United States to network, share ideas and knowledge, participate in seminars, workshops and even participate in the only "Virtual Car Show" at Sea sponsored by O'Reilly AutoParts. Other fun events include the Classic Car 500 sponsored by Summit Racing, Dance through the decades, classic car trivia, cocktail parties, door decorating contest, model car building contest and a silent and live auction with all the proceeds going to America's VetDogs.
The mission of America's VetDogs is to help those who have served our country honorably to live with dignity and independence. Since 1946, the founding group, Guide Dog Foundation, has provided guide dogs and training at no cost to blind or visually impaired people. In 2003, the foundation recognized the need for an overall assistance dog program for veterans that would include guide dogs, service dogs, and state-of-the-art mobility devices. http://www.vetdogs.org
American Express is an award-winning national cruise agency. This affiliation means Sherry Leybovich can offer exclusive pricing on a wide range of cruise packages as well as shore excursions, discounted fares, travel gifts and more. As a Cruise Planners Specialist, Sherry provides specialized land and tour packages to destinations around the world.
For more information, contact Sherry Leybovich or Kelly Bryant of Cruise Planners at 888-464-1827 or 813-657-0844 or visit their dedicated website for the car cruise at http://www.classiccarcruise.com.
About Cruise Planners/American Express
Founded in 1994, Cruise Planners is an American Express Travel Services Representative national cruise agency headquartered in Coral Springs, FL, that operates a franchised network of more than 900 experienced travel professionals who independently book cruises and other associated travel. Cruise Planners has achieved the highest industry awards year after year; Royal Caribbean International Home-based Partner of the Year, Carnival's Agency of the Year, American Express Travel Services Representative Excellence Award and Entrepreneur magazine's Franchise 500 ~ Ranked Number 1 in Category, to name a few.