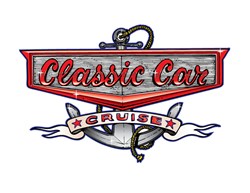 The Classic Car Cruise where it is all about the car.
Tampa, Florida (PRWEB) November 11, 2013
The Classic Car Cruise is excited to announce that reservations are now open for the 4th Annual Classic Car Cruise. Von Hot Rod "Master of the Fine Line," a world-renowned pin-stripe artist and Tim Strange, host of Spike TV's and PowerBlock TV's "Search and Restore" will be "Cruisin" with the Classic Car Cruise aboard Royal Caribbean's Vision of the Seas: February 21-28, 2015.
The Classic Car Cruise will be departing from Tampa, Florida on February 21st through February 28th, 2015 aboard Royal Caribbean's Vision of the Seas and will be visiting locales in the Western Caribbean. The package kicks off with a pre-cruise event held on February 20th, 2015 at the Don Garlits Museum in Ocala, Florida where guests will be able to meet "Big Daddy" himself and receive a private tour of his personal car collection.
The Classic Car Cruise "Where it is all about the Car" brings car lovers from all over the world to network, share ideas and knowledge, participate in seminars hosted by Von Hot Rod and Tim Strange, a pin-striping workshop hosted by Von Hot Rod and they can even participate in the only "Virtual Car Show" at sea sponsored by O'Reilly Auto Parts. Other fun events include the Classic Car 500 sponsored by Summit Racing, Dance through the Decades, classic car trivia, cocktail parties, door decorating contest, model car building contest as well as a silent and live auction with all the proceeds going to America's Vet Dogs.
The mission of America's Vet Dogs is to help those who have served our country honorable to live with dignity and independence. Since 1946, the founding group, Guide Dog Foundation, has provided guide dogs ad training at no cost to blind or visually impaired people. In 2003, the foundation recognized the need for an overall assistance dog program for veterans that would include guide dogs, service dogs, and state-of-the-art mobility devices. Please visit them at http://www.vetdogs.org
American Express is an award-winning national cruise agency. This affiliation means Sherry Leybovich can offer exclusive pricing on a wide range of cruise packages as well as shore excursions, discounted fares, travel gifts and more. As a CruisePlanners specialist, Sherry provides specialized land and tour packages to destinations around the world.
For more information, contact Sherry Leybovich or Kelly Bryant of CruisePlanners at 888-464-1827 or at 813-657-0844 or visit their dedicated website for the car cruise at http://www.classiccarcruise.com
About American Express/CruisePlanners
Founded in 1994, CruisePlanners is an American Express Travel Services Representative national cruise agency headquartered in Coral Springs, Florida, that operates a franchised network of more than 900 experienced travel professionals who independently book cruises and other associated travel. CruisePlanners has achieved the highest industry awards year after year: Royal Caribbean International President Club Award, Carnival's Agency of the Year, American Express Travel Services Representative Excellence Award and Entrepreneur magazine's Franchise 500~ Ranked Number 1 in category to name a few.