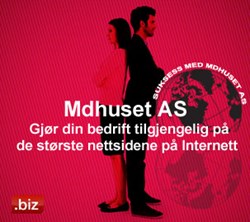 "It is very important to us to do some good for the community," said an Mdhuset representative.
Oslo, Norway (PRWEB) December 31, 2013
Mdhuset, known throughout the marketing industry for offering the largest marketing platform in Norway, has announced that it will be offering complimentary classified ad postings on their website, telefonkatalogen.biz.
The announcement is expected to be received quite well as Mdhuset has established a reputation for providing excellent marketing products and services. The company has been offering these products and services for quite some time now, with the business opening in 2004.
Given the fact that telefonkatalogen.biz is a part of the largest marketing platform in Norway, consumers and businesses should be particularly excited about Mdhuset's latest offer. The complimentary ad posting on their website represents a tremendous value to consumers and businesses who wish to expand the visibility of their advertisements.
"We are always looking for ways to expand," said a representative of Mdhuset. "We feel that by offering complimentary classified ad postings, we will be able to accomplish two things: First, we believe that our customers will see the value in using our platform for their marketing needs, and second, we are able to give back and reward all of our customers with a free service. We think it is very much mutually beneficial."
Mdhuset has indeed not only established themselves as a company with a reputation for successful endeavors, but also as one that makes a true effort to give back to the community. They are very much involved in charitable endeavors and often assist these campaigns in any way they can.
"It is very important to us to do some good for the community," said the representative. "Of course we have business goals, but we also strive to make a positive impact in any way that we are able. We are very proud that our business has been successful enough to allow us to support many organizations in charitable programs."