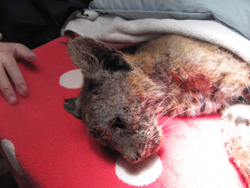 "Wildlife is the barometer of the health of our environment," said Alison Simard, Chair, Citizens for Los Angeles Wildlife.
Los Angeles, CA (PRWEB) October 24, 2014
Citizens for Los Angeles Wildlife (CLAW), a wildlife and environmental charity organization, applauds the Los Angeles Department of Recreation and Parks for its proactive step to phase out its use of second generation rodenticide in all of the city's parks and wilderness areas due, in part, to CLAW's campaign to stop the high rate of unintentional poisoning of wildlife and pets. (KPCC Radio, October 21, 2014)
"We have removed second generation rodenticides from all of our facilities as a policy decision in response to the motion brought forth and in review of our integrated pest management program," said Laura Bauernfeind, principle ground maintenance supervisor for the City of Los Angeles Department of Recreation and Parks.
The announcement was made in the latest Arts, Parks, Health, Aging and the Los Angeles River (APHAR) Committee meeting called by the Los Angeles City Council. The motion for the report was co-authored by Councilmembers Paul Koretz and Tom LaBonge (seconded by Councilmember Mitch O'Farrell who chairs the APHAR committee) in November 2013 in response to CLAW's concerns about increasing numbers of Los Angeles cougars, bobcats, coyotes, hawks and owls dying from anti-coagulant rodenticides.
"Wildlife is the barometer of the health of our environment," said Alison Simard, Chair, Citizens for Los Angeles Wildlife. "We are delighted by this bold response to citizens' concerns and look forward to continue to work with the City of Los Angeles to educate residents about the horrible effects of using anticoagulant poison – especially those who live in hillsides and near open spaces and parks."
On March 20, 2014 NBC News was among the media that reported that the State of California banned second generation anticoagulant rodenticides and the consumer products would be removed from store shelves in July 2014. However, both generations of the poison are still available to licensed pest control companies and state agencies. Bauernfeind explained that the department is compelled by LA County of Health to control ground squirrels at their facilities and will continue to use squirrel bait with an active ingredient that is first generation rodenticide but that they will continue to seek alternate non-toxic methods. "We are open to any or every possibility to avoid the use of rodenticides," she stated.
The matter made national news (LA Times 4/16/14) when the National Park Service and UCLA biologists studying bobcats and mountain lions discovered that Griffith Park resident cougar, P-22, was sick from mange as a direct result of ingesting anticoagulant rodenticides in its prey. "P-22 suffered collateral damage of a public negligence in the way we traditionally handled rodent control. Behind him are, unfortunately, countless numbers of anonymous wildlife that ate poisoned prey and died unceremoniously. This majestic animal served as a symbol of this wildlife devastation," said Alison Simard.
In April 2014, soon after the news of P-22, Committee Chair Councilmember Mitch O'Farrell moved the motion forward by requesting the Department of Recreation and Parks' return with reports of how they might reduce or even stop using the dangerous poisons in their pest management systems. Councilmember Paul Koretz attended and gave testimonial during these special sessions to encourage changes that would benefit wildlife.
"I am extremely impressed that the Department of Recreation and Parks has self-imposed this policy in Los Angeles, one of the largest municipal park departments in the United States. This particular policy shift stands as an example around the world of how a major urban city department recognizes the fragility of wildlife in a city's open space and is working toward a goal of sustainability even if it takes three decades. This is why I took quick measures to address CLAW's concerns. And I think the Department heard us and made swift policy changes," said Councilmember Paul Koretz.
Following the report, Councilmember O'Farrell encouraged the on-going search for alternate integrated pest management systems and technology that reduce suffering, and encourage a return to healthy thriving wildlife populations. "We look forward to hearing an updated report in July 2015. That will be one year after the State of California removed second generation rodenticide from consumer shelves and more than a year since the department stopped using it in our natural parks and wilderness areas," said Councilmember O'Farrell.
After CLAW's initiation of this cause, support for the Koretz-LaBonge-O'Farrell motion included hundreds of letters, as well as scores of in-person testimonials, from citizens, scientists, and local and national advocacy groups, along with a petition of more than 2,300 signatures. CLAW will continue to encourage the City to discontinue all use of anti-coagulant rodenticides.
About Citizens for Los Angeles Wildlife, Inc. (CLAW):
Citizens for Los Angeles Wildlife, Inc. (CLAW) is a public benefit 501(c)3 non-profit environmental organization. CLAW works to protect and restore the environments of Los Angeles and California from dwindling open spaces. Our mission is to promote, educate and protect the fundamental important of wildlife, wildlife habitats and wildlife corridors everywhere. For more information - visit our website http://www.clawonline.org
Watch our educational videos to learn more about CLAW's work to protect wildlife and wildlife habitats.