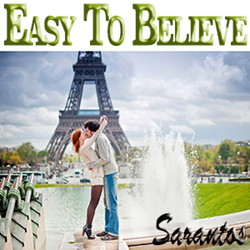 What we must never forget is that we each write our own story!
Park Ridge, IL (PRWEB) July 14, 2015
Sarantos Releases A New Music Video in Clay Animation Style For The New Pop Summer Love Song "Easy To Believe."
Sarantos has tried a wide variety of music videos but the story always seems to be at the heart of them. Sarantos is all about the lyrics so this is no longer a surprise to fans. Adding a visual element has always been important to Sarantos and this is why a new music video is released every single month, unlike other artists who only release one or two with each CD (which is released every 3 years on average). Fans want more!
This new music video is in a clay animation style and there are subtle innuendos throughout the video that give fans a clue into the true nature and life of Sarantos. Real life is often very different than the things we see on a screen in a movie, TV show, cell phone or iPad. Sometimes there is loneliness. Sometimes there is a struggle within to be a better person, friend, spouse or parent. Every day brings new challenges. There is love, hope, frustration, the list is never-ending. What we must never forget is that we each write our own story!
Of course with the new Superman vs Batman movie coming out next year and the trailer being released this week at Comic-Con, there is a humorous moment in this video when Sarantos new band is revealed to the world - is that really Batman?? Sarantos continues a unique journey to the amazement of critics everywhere who urge him to give up or stop (kidding of course).
Sarantos tell fans in this video it is ok to be infatuated, to fall in love or even to get your heart broken. Our lives are our own. Love is everywhere all around us. Love is the glue that bonds the world and pushes it forward.
"This music video is a first for me," says Sarantos. "Because I release a new music video every single month and because the story is the key, I am always looking to try new things. Of course, given that I am an indie artist, I have budget constraints that are very real. Nevertheless, I want to give my fans something to watch and enjoy for a few minutes each month. I want them to look forward to the quote, the type of video, wonder whether I will be in this one or not, and obviously to think about the story and all the various ways it can be interpreted. Hopefully they enjoy this video with its love story and appreciate the few subtle humorous references."
Sarantos won the Akademia LA Music Awards in 2015 for Best Song (What If I Never See You Again), Best Rock Music Video (We Accept The Love We Think We Deserve), Best Singer/Songwriter Song (A Mission Of Heart) & Best Pop Rock Album (Not Where I Wanna Be).
Sarantos was nominated in 2014 for the International Music & Entertainments Awards for "Rock Song of the Year" and "Pop Album of the Year" and also for the Hollywood Songwriting Awards for Best Unsigned Song (Are You Sure You Can Last).
Even without a label or radio promoters, Sarantos song "What If I Never See You Again" is still in the top 200 on the majors list in the US for radio airplay according to the Digital Radio Tracker Top 200 charts for the week ending in 7-1-15. On the independent charts, Sarantos is still in the top 10. It's been on both these lists since early April.
33% of any music-related sales profits from this song are going straight to DuPage Pads.
Dupage Pads is about the journey from dependency to self-sufficiency. Not the shelter. Not the nights spent in a car, in a motel room or on the street. DuPage Pads is a journey that begins with an extended hand, an affirming voice, and a trusting soul that will advocate undividedly for each individual. The solution to end homelessness starts with housing.
There will be plenty of continued buzz throughout the year as Sarantos strives to release something for his fans every single week. Every year until the day he dies, Sarantos will release a new song on the 1st Tuesday of every month, a new music video on the 2nd Tuesday of every month, a chapter from his fiction/fantasy book on the 3rd Tuesday of every month, and a new Whiteboard video on the 4th Tuesday of every month. A new CD will then be released every November.
Sarantos has been writing lyrics since 4th grade and is passionate about the words he puts to the music. Music was always in his blood. Music was always a passion and much more than a hobby. Sarantos has written over 2,000 songs. Having undergone several personal challenges with Sarantos' father passing away four years ago after a long hard-fought battle with lung cancer, dealing with personal health issues like asthma and allergies which affected his singing style, going thru life's ups and downs, the timing was finally right. And so it began. Sarantos' main motivation remains, however, to raise money for charity.
33% of any music related sales are going straight to charity.
*Because Sarantos wants his music shared throughout the world, fans can always find all of his songs, lyric sheets, videos and books on his website for free at https://www.melogia.com/music.html. He openly gives everyone the right to share his song mp3s for free with anyone they want via email or any of the social media platforms.
** Fans can sign up for his free email list to get the inside scoop first & exclusive content available nowhere else!
Website
http://www.melogia.com
Sarantos' iTunes:
http://bit.ly/SarantosAppleStore