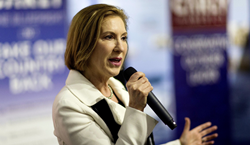 TULSA, Okla. (PRWEB) April 08, 2019
Clay Clark, founder of Thrive15 and creator of the "Thrivetime Show – Business School Without the BS," has been welcoming a fair number of popular guests to his podcast in the recent months, recently speaking to influencers such as Jason Khalipa, "The Fittest Man in the World," and John C. Maxwell, an acclaimed author and speaker. Now, he's had the chance to say that Carly Fiorina has spoken on his podcast.
"I am both honored and privileged to interview the woman who ran for President after completely obliterating the "glass ceiling" for women in business when she became CEO of the FORTUNE 20 Company, Hewlett Packard," explains Clark, "She's a best-selling author. She's a great American. She's a big deal."
Cara Carleton "Carly" Fiorina is an American businesswoman and political figure, known primarily for her tenure as CEO of Hewlett-Packard (HP). She subsequently served as Chair of the philanthropic organization Good360. As Chief Executive Officer of HP from 1999 to 2005, Fiorina was the first woman to lead a Top-20 company as ranked by Fortune Magazine.
In 2002, Fiorina oversaw what was then the largest technology sector merger in history, in which HP acquired rival personal computer manufacturer, Compaq. The transaction made HP the world's largest seller of personal computers.
Fiorina was also an adviser to Republican Senator John McCain's 2008 presidential campaign. In 2010, she won the Republican nomination for the United States Senate in California, but lost the general election to incumbent Democrat Barbara Boxer. Fiorina was a candidate in the 2016 Republican presidential primary, and was for seven days the vice-presidential running mate of Ted Cruz until he suspended his campaign.
When asked about her advice to people wanting to climb the corporate ladder, Fiorina wasn't afraid to pull any punches. "I would say to men and women, if you want to solve problems, you are going to have to get used to criticism," explains Fiorina, "Most people stop because they are afraid of criticism. The kinds of criticism are different for everyone. For women, it could even just be about their appearance. Women, don't get a chip on your shoulder and don't hide your light under a bushel. If someone does something to upset you, confront them. Be brave and smart."
"I've always been fascinated by Fiorina's illustrious career," explains Clark, "So just having her on the show was an awesome experience. Getting to hear her viewpoints on the steps to take to control of our own lives was a plus, and I enjoyed every minute of our interview. I hope she could even come back onto the show sometime in the future."
The Thrivetime Show allows viewers to "Experience business school without the BS" with Clark and his co-host: optometrist turned business tycoon Doctor Robert Zoellner. The award-winning team has been featured on Forbes, Fast Company, Bloomberg, and Pando Daily. Currently, the podcast has over 1,300 episodes, and has featured Emmy Award-Winners, New York Times best-selling authors, NFL Players, and NBA Players.
"Stick to a path and review how you've spent your time. Time is the one thing we can never get back," states Fiorina, "how we choose to spend our time becomes our life. You have to ask yourself what areas of your life and business are you underwhelming or under achieving, and what should you be doing on a daily basis to make sure you reach your full growth and potential."
Clay Clark, who over the years has also worked as a business growth consultant, educator, and entertainer of choice for countless clients, is happy that he is able to change lives with messages like Fiorina's. "This is a way we can do it — on the web," states Clark, "our mission with this podcast is to help people thrive and live at their peak."
"Our team has big plans for the Thrivetime Show over the coming months," concludes Clark, "Our goal is to bring even more guests and their messages forward. We want to influence people as much as we can, one small step at a time."