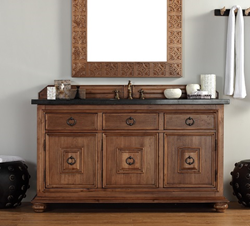 Water left standing on or in a vanity, even a very well sealed one, will eventually damage it just the same as any wood furniture, leaving water spots, stains, or even causing warping, mold, or mildew with repeated exposure over time.
(PRWEB) September 25, 2014
HomeThangs.com – the Online Home Improvement Store has made their goal to deliver the right product to the consumer. With that in mind, shopping and home design tips, as well as special product selections are being introduced.
Bathroom vanities are different from any other type of furniture in the home. They're exposed to a harsher environment, and because of that they're usually finished differently and require different care and maintenance. HomeThangs.com has introduced a quick guide to the most important points of keeping a new bathroom vanity clean and in prime condition, as well as a few pitfalls to avoid.
Bathroom vanities are much more likely to get wet than ordinary wood furniture, and as such are usually very thoroughly sealed. But sealed wood is water resistant, not waterproof, and even very high end finishes have a limit to how much water they can repel before the underlying wood becomes damaged. HomeThangs' new guide discusses how to know how much water a vanity can handle, and a few of the best ways to keep a little water from becoming a big problem.
HomeThangs.com's new guide also discusses some of the finer points of caring for a natural stone vanity top, as well as some of the practical limitations of marble and granite. While these materials are lovely and generally fairly durable, they do have some weaknesses and require consistent routine maintenance in order to maintain their optimal appearance.
Most manufacturers include directions for caring for their vanities, either with the vanity itself or somewhere on their website, but this guide discusses care in broader strokes, from initial installation to everyday care to intensive deep cleaning. To read the full guide to bathroom vanity care and maintenance, click here.
HomeThangs.com is not only a home improvement superstore, it also provides expert design tips and a comprehensive shopping guide, taking the ideas from professional interior designers, and offering tips to the consumers on how to pick the products to best suit their needs.