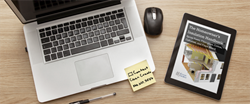 We want to make insulation research easier for builders and homeowners by creating this guide.
Everett, WA (PRWEB) August 27, 2014
Many homeowners and builders may have an idea of what type of insulation that they think should be used in the construction or reinsulation of their home. The most commonly used types, such as fiberglass and cellulose, may be at the top of their list at the moment, but a recently released eBook from Clean Crawls, available for free download on their website, may just change their minds.
"When builders and homeowners are considering the various types of insulation that are currently available, they are all approaching with different mindsets of what they need and value most," says Clean Crawls. "In some cases, it is a combination of reducing heat transfer and sound-proofing abilities. For others, the greater emphasis is on very low allergens and still a high R-value. We wanted to make the research a little easier for these people by creating this guide."
The eBook guide addresses the five types of insulation that Clean Crawls installs most frequently: spray foam, fiberglass, cellulose, cotton, and foam board.
The guide provides insight on the various benefits of each, and addresses the top five pain points— "What is the efficiency and R-value of the insulation? What is it made from? Does it provide an air seal? How does it respond to moisture? Is it environmentally friendly?"
As they walk the reader through each question for each type of insulation, they'll get insight into which type of insulation will best suit their needs.
To learn more about Clean Crawls insulation services, follow this link to their website: http://www.cleancrawl.com/.
The article explains that homes can experience a 20-30% reduction in energy costs, or more, when they insulate areas that were not previously insulated or have had insulation deteriorate or become contaminated.
Some energy providers, such as Puget Sound Energy, may have rebate programs that help homeowners make wise decisions as they become more environmentally friendly while consuming less energy.
About Clean Crawls:
Clean Crawls provides attic and crawl space cleaning, weatherization, and insulation services. Homes and businesses alike have the opportunity to be clean and healthy at affordable rates, as well as save energy throughout the year. Visit http://www.cleancrawl.com today for more information and a free quote.
3707 124th St NE
Marysville, WA 98271
(866) 651-1700