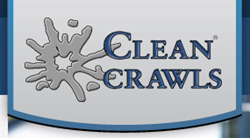 We are excited to announce that we are now offering air duct cleaning services to our Puget Sound area clients.
Seattle, WA (PRWEB) May 31, 2015
Chuck Henrichsen, CEO of Clean Crawls, a well-known local crawlspace and attic cleaning, insulation, and pest control company, is excited to announce that they are about to expand their service offering even further. Beginning June 1st, Clean Crawls will also be offering their clients air duct cleaning services.
"It is a natural progression for our business," Chuck explained, "because we already provide crawl space and attic cleaning services, we deal with air ducts and HVAC systems on a regular basis. Many of our clients have requested simultaneous crawl space cleaning and duct cleaning services, and we are now able to meet those needs quickly, easily, and at highly competitive prices."
Clean Crawls will be providing certified professional air duct cleaning services for clients throughout the Seattle area, including Bellevue, Tacoma, Renton, Port Orchard, Kirkland, Everett, and more. Their air duct cleaning techniques include state of the art air duct cleaning tools and methods to provide the most effective and efficient results.
To learn more about Clean Crawl's new air duct cleaning services or to get a quote, click here.
"We are excited to expand into this additional area of service for our clients," says Chuck, "Our goal is and always has been to provide the most efficient, comprehensive, and best quality services to our clients."
About Clean Crawls:
Clean Crawls provides attic and crawl space cleaning, weatherization, insulation, and pest control services throughout the Greater Seattle area. Their services help homes and businesses stay energy-efficient and remain healthy environments in which to live. Affordable rates and excellent customer services make Clean Crawls a popular local home service company. Visit http://www.cleancrawl.com today for more information and a free quote.
Clean Crawls
9612 47th Ave SW, Lakewood, WA 98499
(253) 588-4982
cleancrawl.com