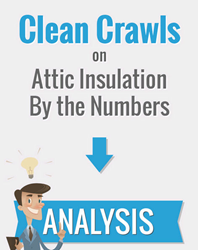 The simple task of properly insulating an attic can reduce a homeowner's energy bill by approximately 30%.
Seattle, WA (PRWEB) March 19, 2014
It is often the small things that make a big difference. The simple task of properly insulating an attic can reduce a homeowner's energy bill by approximately 30%. Clean Crawls, a Seattle-based crawlspace and attic cleaning company, recently published an infographic detailing the cost savings directly associated with attic insulation. The findings prove the simple fact that fixing a small problem can produce big results, saving the average homeowner hundreds of dollars.
The infographic makes the conclusive point that, since heat rises, a poorly insulated attic will allow heat to escape from a home. Consequently, this forces the homeowner to run their heater far more often and for longer periods of time than would be necessary. According to Clean Crawls, "It should come as no surprise that attic insulation is so key in keeping warm air in your home."
The Clean Crawls infographic goes onto mention some astounding statistics. Shockingly, 85% of a house's heat will escape through an attic if it has not been properly insulated. Furthermore, the article emphasizes that, based on the experiences of previous customers who have had their attic insulated well, the cost of an attic insulation job will pay for itself within one year.
If homeowners find themselves wondering whether or not their attic is poorly insulated, the Clean Crawls infographic provides a helpful list of symptoms that result from sub-par insulation in attic areas. Uneven temperatures and high energy bills are only a couple of the indicating factors of insufficient attic insulation listed in the infographic.
Clean Crawls installed attic insulation for a customer named Rebecca, residing in the Seattle area. In her testimonial response to their hard work, she says, "They did a great job of insulating our attic in a single day, and left the house spotless afterwards. We have been very happy with the job and are definitely now saving money on our heating."
It's easy to see that the cost savings are no joke. For more information on attic insulation or other crawl space cleaning services, contact Clean Crawls.
About Clean Crawls:
Clean Crawls provides attic and crawl space cleaning, weatherization, and insulation services. Homes and businesses alike have the opportunity to be clean and healthy at affordable rates, as well as save energy throughout the year. Visit their website today for more information and a free quote.
Clean Crawls
3707 124th St NE
Marysville, WA 98271
(866) 651-1700
http://www.cleancrawl.com