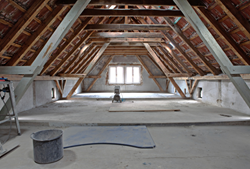 Poor insulation can leave your home feeling drafty and cold, and increase energy costs significantly.
Everett, WA (PRWEB) December 02, 2014
Many people see insulation as a dusty, messy business, and therefore do not see the need to consider replacing it. In the most recent article produced by Clean Crawls, they warn that "a poorly insulated attic can actually end up costing you big in the long run."
Clean Crawls lists three important reasons why homeowners should consider restoring their attic insulation. The first of these reasons is because it allows homeowners to regulate the temperature of their homes. The article says "Poor insulation can leave your home feeling drafty and cause noticeable changes in temperature even between rooms."
The article states states that a properly insulated attic can also protect your wallet. They say that "studies have shown that homeowners can save up to 30% on their energy bills, simply by restoring their insulation."
Clean Crawls gives a valid reason for why the attic is a good place to start when considering whether to repair a home's insulation. They say "Because attics often have numerous large surfaces that energy can escape through, they are one of the simplest places, and the most rewarding, to instal new insulation."
While the options for insulation types and amounts are practically limitless, Clean Crawls lands on spray foam insulation as the best option for any insulated space. They article states that "Spray foam insulation has the highest R-value, or resistance value, than any other insulation on the market, and it is an excellent moisture barrier." The article goes on to describe a few additional benefits to using spray foam over other insulating substances.
About Clean Crawls:
Clean Crawls provides attic and crawl space cleaning, weatherization, and insulation services. Homes and businesses alike have the opportunity to be clean and healthy at affordable rates, as well as save energy throughout the year. Visit http://www.cleancrawl.com today for more information and a free quote.
3707 124th St NE
Marysville, WA 98271
(866) 651-1700