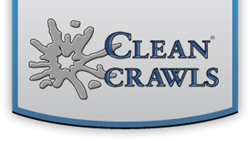 There can be up to 10,000 live dust mites in 10 square feet of carpeting, and over 100,000 dust mite corpses.
Seattle, WA (PRWEB) February 23, 2014
Indoor air toxicity levels in the United States are on the rise. Clean Crawls, a company specializing in maintaining clean and well-sealed crawl spaces and attics, has done their research about common sources of air toxicity in the home. In fact, they released a blog series about the various sources of air pollution in the home.
The first of their blog series addresses the hazards of carpeting. The article lists the creepy crawlies and large numbers of human skin flakes, pet dander, mold and bacteria that commonly hide in the carpeting of our homes. They state that there can be up to 10,000 live dust mites in 10 square feet of carpeting, and over 100,000 dust mite corpses in this same area. Such a large number of irritants can get into the air and cause family members to develop coughs, rashes, itchy and watering eyes, as well as other health conditions.
The second blog of the series highlights the hazards of dirty vents and air ducts. The article reminds homeowners that the heating and air conditioning systems that regulate the temperature of their homes should be cleaned regularly. In addition, a large amount of mold, fungi, dust, and dander buildup in the ventilation system will blow into the home every time the furnace or cooling unit kicks on.
"It's important to ensure that the air blown throughout your house is as clean as possible to avoid family members having allergies aggravated," says Clean Crawls.
In upcoming blog posts Clean Crawls intends to highlight other commonly overlooked areas of the home that contribute to poor air quality. Next on their list of issues to address are the use of fungicides, pesticides and other chemicals commonly used in homes across the United States.
About Clean Crawls:
Clean Crawls provides attic and crawl space cleaning, weatherization, and insulation services. Homes and businesses alike have the opportunity to be clean and healthy at affordable rates, as well as save energy throughout the year. Visit http://www.cleancrawl.com today for more information and a free quote.
3707 124th St NE
Marysville, WA 98271
(866) 651-1700