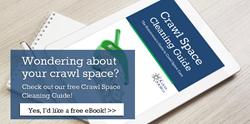 Learn about how to protect your home from costly crawl space disasters by reading our helpful, simple eBook guide to crawl space cleaning.
Seattle, WA (PRWEB) March 16, 2015
How are home owners supposed to know if their crawl space needs a renovation? By reading Clean Crawls' latest ebook! This helpful guide can give homeowners a glimpse of what their crawl spaces should look like, as well as information on how to conduct their own inspection.
Clean Crawls begins their ebook by informing readers of what they should expect when viewing their crawl space. The guide also warns homeowners of some unpleasant surprises they could encounter during their inspection, such as standing water, odors, and pests, and how to get rid of them.
The eBook goes on to inform readers that serious crawl space problems can be avoided through regular maintenance. Clean Crawls then lists several ways homeowners can regularly clean and maintain their crawl spaces to protect them from mold and deterioration.
Clean Crawls main concern is to protect crawl spaces from water and moisture damage. To accomplish this, they encourage various restorations and repairs to ensure that water stays outside the crawls space and the inside stays dry. Homeowners can use this information as they consider how best to protect the crawl spaces and homes from damage.
To learn more about crawl space cleaning and repairs, or for more information about the services offered through Clean Crawls, visit their website at http://www.cleancrawls.com.
About Clean Crawls:
Clean Crawls provides attic and crawl space cleaning, weatherization, and insulation services. Homes and businesses alike have the opportunity to be clean and healthy at affordable rates, as well as save energy throughout the year. Visit http://www.cleancrawl.com today for more information and a free quote.
3707 124th St NE
Marysville, WA 98271
(866) 651-1700