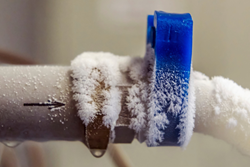 Much of the advice that homeowners hear about preventing frozen pipes is, unfortunately, wrong.
Everett, WA (PRWEB) January 01, 2015
Clean Crawls, a company specializing in cleaning, insulating, and sealing crawl spaces and attics in homes through the Pacific Northwest, have released a new article debunking the commonly held misconceptions about proper ways to prevent freezing pipes.
To learn more about their cleaning and insulation services, follow this link to their website for a free quote: http://www.cleancrawl.com/
"There is a lot of advice you hear on how to keep pipes from freezing," Clean Crawls says, "Unfortunately, many of them are wrong — and can cause a lot of damage if followed."
This is why they talk about some of these common mistakes that people hear and give as advice for frozen pipes. Some examples of bad advice are keeping the water running constantly, closing off the crawl space from the outdoors, and wrapping the pipes.
While each of these seem logical, and may even work very successfully in other parts of the United States where the weather isn't as chilly and moisture-laden, there are definite hazards forthcoming for homeowners in the Pacific Northwest who follow these problematic practices.
Clean Crawls presents their solution — an insulated crawl space — explaining why their method is the best bet to not only protect the pipes, but the entire home as well. And that includes the homeowners checking accounts as well. Many homeowners fail to realize that an insulated crawl space not only saves them the worry about the pipes, it also saves them money.
To learn more about tips on freezing pipes, check out Clean Crawls.
About Clean Crawls:
Clean Crawls provides attic and crawl space cleaning, weatherization, and insulation services. Homes and businesses alike have the opportunity to be clean and healthy at affordable rates, as well as save energy throughout the year. Visit http://www.cleancrawl.com today for more information and a free quote.
Clean Crawls
3707 124th St NE Ste 1
Marysville, WA 98271
360-651-1765