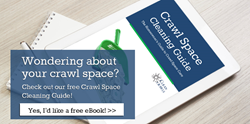 Up to 40% of the air in a home seeps up from the crawl space — and if that crawl space is dirty or moldy, it greatly impacts your home air quality.
Everett, WA (PRWEB) February 13, 2015
"If we were all honest, most homeowners would admit that their crawl space is one of the last places they think about in terms of caring for their home," says Clean Crawls, "But the reality is, this out of the way area is one of the most important places of the home."
Clean Crawls, a crawl space cleaning and insulation company in Everett, WA, knows all about crawl spaces and all the things that homeowners too often forget. Their newly released eBook explains why the crawl space is so important to home care, and how homeowners can take action.
The eBook carefully guides homeowners through this dark underbelly of the home, explaining the various aspects and objects that will be found there, including electrical wiring, support beams, insulation, vapor barriers, drains, dirt, pipes, vents, and more. The next several chapters give simple practical steps that every homeowner can take to clean and maintain the crawl space.
"In this free download, we aim to educate homeowners about this important area of their home. While it may not seem like (or look like) much, it has a huge effect on the rest of your home," Clean Crawls states. They go on to point out that about 40% of the air in a home comes from the crawl space, seeping through the floorboard and permeating the living areas.
If the crawl space isn't well cared for, then mold, rot, and moisture develop, causing harmful effects on home air quality. Not only that, but energy bills can skyrocket when the cold air from below pervades the upper floors.
To learn more about crawl space care and maintenance, visit their website to download the eBook guide, or to contact their crawl space team to get a free estimate.
About Clean Crawls:
Clean Crawls provides attic and crawl space cleaning, weatherization, and insulation services. Homes and businesses alike have the opportunity to be clean and healthy at affordable rates, as well as save energy throughout the year. Visit http://www.cleancrawl.com today for more information and a free quote.
3707 124th St NE
Marysville, WA 98271
(866) 651-1700