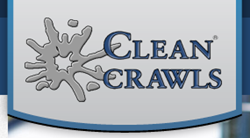 Clean ductwork is vital to ensuring the energy efficiency and indoor air quality of your home.
Seattle, WA (PRWEB) June 29, 2014
In recent years, there has been a broad push towards promoting awareness of indoor air pollution and energy efficiency problems in American homes. This increased visibility of problems has led to some companies striving to ensure that their customers have up-to-date information regarding new research and new strategies to keep families and homes healthy and energy efficient, including ductwork cleaning and sealing.
One such company is Clean Crawls, a crawlspace and attic cleaning and insulating company. They have recently been recognized by PSE for their enormous efforts to increase public awareness of energy issues, promoting rebates and educational programs to all of their customers.
"If you have found that, despite how long you run the heating or cooling systems in your home, it never seems to keep the temperature at an appropriate level, or there are sudden fluctuations in temperature, it may indicate that you have a leak in your ductwork," says Clean Crawls.
They also list indications that your ventilation is dangerously dirty, such as accumulated dust or dirt particles being blown into the air, vermin or insect infestations, and visible mold growth.
"Such signs are a sure indication that it's time to have your home checked out by professionals," Clean Crawls advises. "Remember, fixing problems before they become serious is far less costly in the end, and far better for the health of your family and the environment."
About Clean Crawls:
Clean Crawls provides attic and crawl space cleaning, weatherization, and insulation services. Homes and businesses alike have the opportunity to be clean and healthy at affordable rates, as well as save energy throughout the year.
Clean Crawls
3707 124th St NE
Marysville, WA 98271
(866) 651-1700
http://www.cleancrawl.com