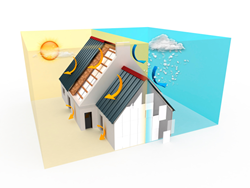 Everett, WA (PRWEB) May 02, 2014
Clean Crawls, a local attic and crawl space cleaning and insulating company, knows all about insulation of every type. In response to some propaganda they heard regarding the supposed dangers of fiberglass, the staff decided to do some additional research themselves and publish what they learned on their blog.
While they advise that fiberglass is best handled by professionals that are trained to safely install fiberglass while wearing appropriate protective clothing, they concede that many homeowners will attempt to do this themselves.
If you need insulation installed in your crawl space or attic, contact Clean Crawls here: http://www.cleancrawl.com
If that is the case, the article advises, homeowners should call in a professional team before installing insulation to ensure that their heating and ventilation systems have no leaks or drafts that could allow fiberglass into the central system.
"Fiberglass is a known potential carcinogen," they explain, "when the small particles get into the air, they can get into the eyes, mouth, and lungs of the family members inside. These particles can remain in tissue a long time, causing physical problems such as persistent dry coughing, sore throat, bloody nose, red, swollen, or watery eyes, skin irritations, a bloody taste in the mouth, and more."
In addition, the article explains that, while fiberglass insulation isn't highly flammable, it does give off dangerous fumes when it does catch fire. These toxic gases, such as carbon monoxide, carbon particles, hydrogen cyanide, and ammonia, can add another level of caution for the use of fiberglass.
The article concludes that while fiberglass is potentially dangerous, it can be used entirely safely in homes without causing any adverse health effects.
"If a home's systems are functioning properly and the insulation is installed correctly, the potentiality for problems is minimal." They advise that a professional is the best choice for installing fiberglass insulation to ensure full safety.
About Clean Crawls:
Clean Crawls provides attic and crawl space cleaning, weatherization, and insulation services. Homes and businesses alike have the opportunity to be clean and healthy at affordable rates, as well as save energy throughout the year. Visit http://www.cleancrawl.com today for more information and a free quote.
3707 124th St NE
Marysville, WA 98271
(866) 651-1700