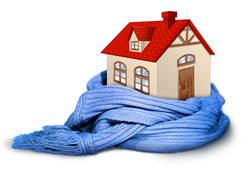 We designed our eBook to be a resource for people that are confused or overwhelmed with their options.
Everett, WA (PRWEB) October 25, 2014
Homeowners that are wondering how they can tell when their insulation has 'gone bad' need wonder no more. Clean Crawls gives 5 signs of poor insulation that homeowners should watch out for when it comes to insulation in their recently released article.
Bad insulation, according to the article released by Clean Crawls, can cause problems throughout your entire home. They emphasize for homeowners that any insulation that has deteriorated, become damp, or been infested with pests should be replaced pronto.
One sign is the tell-tale fluctuating temperature changes. Inconsistent temperatures sabotage the heating (or cooling) unit's ability to maintain a consistent temperature throughout the home.
"This means that you'll hear your unit kick on and off randomly throughout the day, or run for long periods of time," Clean Crawls says, "This might be due to shifting of insulation batts, or simple deterioration of the current insulation, or simply not enough of the right kind of insulation."
Get a free attic insulation or crawl space cleaning quote from Clean Crawls -http://www.cleancrawl.com/contact
Homeowners that are wondering what type of insulation is best for their home should look at Clean Crawls free eBook. This provides information on the most common types of insulation used in the Seattle area, complete with reviews on performance, environmental impact, health safety, and other important considerations.
"We designed our eBook to be a resource for people that are confused or overwhelmed with their options," Clean Crawls states. "Now, homeowners in the Washington area have access to the information that they need to make a confident decision about how to enhance their home's integrity and energy-efficiency."
About Clean Crawls:
Clean Crawls provides attic and crawl space cleaning, weatherization, and insulation services. Homes and businesses alike have the opportunity to be clean and healthy at affordable rates, as well as save energy throughout the year. Visit http://www.cleancrawl.com today for more information and a free quote.
3707 124th St NE
Marysville, WA 98271
(866) 651-1700