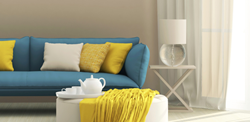 "Insulation that is insufficient or of a poor quality is not doing your home and air quality any service."
Seattle, WA (PRWEB) April 01, 2015
With so much wet weather over the past few months, homeowners have been forced to spend much of their time indoors. When all this time is spent inside, it is important to maintain clean, healthy air. The latest article from Clean Crawls offers excellent advice to homeowners seeking to improve the air quality in their homes.
One of the ways to improve the air quality in a home is for homeowners to keep houseplants. The article states that, "Toluene, Xylene, and Benzene are all Volatile Organic Compounds (VOCs), often found in cleaners and paint products, which these indoor plants are able to target and filter out of our surroundings." The article goes on to help homeowners know how to help their houseplants thrive throughout the year.
Among Clean Crawls list of ways to improve a home's air quality, it may be surprising to see that insulating your home can actually accomplish this goal. The article goes on to describe how having wet or moldy insulation can seriously impact the air quality of a home.
The article states, "Insulation that is insufficient or of a poor quality is not doing your home and air quality any service."
Clean Crawls recommends inviting a professional weatherization and cleaning company to help analyze, clean out, and reinstall poor or damaged insulation to improve the home air quality. To learn more about their services, visit their website at http://www.cleancrawl.com/services.
About Clean Crawls:
Clean Crawls provides attic and crawl space cleaning, weatherization, and insulation services. Homes and businesses alike have the opportunity to be clean and healthy at affordable rates, as well as save energy throughout the year. Visit http://www.cleancrawl.com today for more information and a free quote.
3707 124th St NE
Marysville, WA 98271
(866) 651-1700