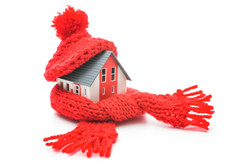 People simply don't realize how much heat is lost through their walls, crawl space, and attic.
Everett, WA (PRWEB) September 12, 2014
One of the most frustrating seasons for many homeowners is the winter season, where their hard-earned money seems to trickle out of their wallet and into heating and energy costs. Clean Crawls explains the reasons why homeowners find themselves paying exorbitant rates for utilities in their recently released article, "Preparing For Fall: Insulation Options to Keep Your Home Warm."
The article briefly explains the financial toll caused by heat transfer through uninsulated walls, crawl spaces, and attics, and they also describe how properly insulating these key areas can save literally thousands of dollars over time.
This huge cost-savings should be catching homeowners' attention—particularly those who paid an arm and a leg in heating costs last winter.
Clean Crawls says that, in their experience, many homeowners are able to offset the cost of the insulation installation by the significant decrease in energy expenditures over the course of a single winter.
"People simply don't realize how much heat is lost through their walls and crawl space, and particularly the attic," Clean Crawls says.
To learn more about Clean Crawls insulation services, view their website by following this link: http://www.cleancrawl.com.
The article also gives homeowners a quick glimpse of the various types of insulation most successful in the Pacific Northwest, including the R-value of each.
They also provide additional information for serious homeowners in a free downloadable eBook that gets down and dirty about the five types of insulation most often used to insulate homes in the pacific northwest.
"It's our goal to help you prepare for winter. We tailor our services to fit every budget, and we have plenty of advice to give on how to get rebates and other cost-savings from various local utilities providers," Clean Crawls concludes.
About Clean Crawls:
Clean Crawls provides attic and crawl space cleaning, weatherization, and insulation services. Homes and businesses alike have the opportunity to be clean and healthy at affordable rates, as well as save energy throughout the year. Contact them today for a free quote.
3707 124th St NE
Marysville, WA 98271
(866) 651-1700