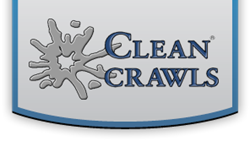 While there are preventative measures that you can take to keep mold from growing, once you do have a problem, it's recommended that you seek out professionals to clear the mold's toxic mess.
Seattle, WA (PRWEB) March 09, 2014
Clean Crawls, a company well known for their crawl space cleaning and insulating services, has stated, many times, their passion for improving indoor air quality. After all, most people spend the majority of their time indoors. Because of this, and their knowledge of what can be lurking in and beneath homes, Clean Crawls has released a blog series addressing part of the air quality issue— mold.
The first article in the Toxic Mold Infestation series, Attack of the Mycotoxins, explains that many 'colds' people get during humid summer months, or chronic bronchial or respiratory conditions can be traced to mycotoxin overload in the home. Mycotoxins are particularly dangerous to humans, and especially asthmatics or those that already have a respiratory or immune disorder.
Part two of the series, Don't Assume You're Safe, addresses the three most common types of indoor mold; Aspergillus, Penicillium and Stachybotrys. The article addresses where each type of mold grows best and under what conditions it is most likely to flourish. Clean Crawls also details the symptoms associated with each. Some mycotoxins produce cancer, others are neurotoxic and have damaging effects on the nervous system.
The third and final portion of the series, Get Rid of Mold With Clean Crawls, gives detailed instructions to homeowners on how to prevent mold from growing in and around their home, and how to proceed when they have located mold.
"While there are preventative measures that you can take to keep the mold from growing, once you do have a problem, it's recommended that you seek out professionals to clear the mold's toxic mess," Clean Crawls advises. This is especially important in poorly ventilated areas, they point out, such as a crawlspace or attic. When mold is being removed, these mycotoxins are stirred into the air, and thus, having the proper skin and respiratory protection is vital. "In such situations," Clean Crawls advises, "It is safer for you and your family to call in the experts."
About Clean Crawls:
Clean Crawls provides attic and crawl space cleaning, weatherization, and insulation services. Homes and businesses alike have the opportunity to be clean and healthy at affordable rates, as well as save energy throughout the year. Visit http://www.cleancrawl.com today for more information and a free quote.
3707 124th St NE
Marysville, WA 98271
(866) 651-1700