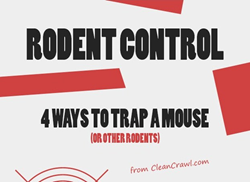 By following the simple guidelines in our informative Ebook, eradicating rodents from your home and crawl space is easy.
Seattle, WA (PRWEB) May 14, 2014
Rodents are a common problem for many rural and urban homeowners alike in the Pacific Northwest. Removing them can be an arduous chore. Clean Crawls makes this process simple in their recently released ebook.
The ebook, titled, "Removing Rodents the Right Way" describes in detail the entire process of pest control, start to finish. Prevention methods, removal and cleanup are all explained within the ebook.
Want to avoid rodent problems in the crawl space? Contact Clean Crawls for crawl space cleaning and insulation: http://www.cleancrawl.com/contact.
The free downloadable book begins by addressing the most common ways that rodents get into the crawl space areas of the home, and provides advice on how to help prevent this from happening, after all—
"Prevention," they advise, "is always cheaper than repairs!"
The following chapter is devoted to strategic methods to depress the mouse population after it has already managed to establish itself in your crawl space and wall cavities. The eBook stresses the importance of not providing any type of food or water for the mice.
The following chapters are devoted to the various types of mouse catching traps available, and requisite crawl space cleaning following their eradication. The eBook provides information on various snap traps, electronic traps, live traps, and more.
Rodents can carry diseases and cause a lot of damage within a home. Because of this, proper crawl space care and maintenance are required, including the sealing of cracks and holes, and ensuring vents are adequately covered.
"Even if you have a crawlspace that is moderately well sealed, mice can slip through a hole the size of a dime, and rats can squeeze through a hole the size of a quarter. What you think is a tiny crack may be the golden gate for that little mouse to access the rest of the house!" Clean Crawls concludes.
Contact Clean Crawls directly for a free crawl space cleaning quote.
About Clean Crawls:
Clean Crawls provides attic and crawl space cleaning, weatherization, and insulation services. Homes and businesses alike have the opportunity to be clean and healthy at affordable rates, as well as save energy throughout the year. Visit http://www.cleancrawl.com today for more information and a free quote.
3707 124th St NE
Marysville, WA 98271
(866) 651-1700