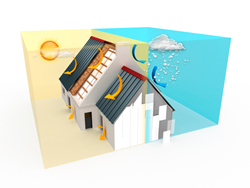 Seattle, WA (PRWEB) July 08, 2014
Mold growth is one of a homeowner's worst nightmares. Whether it's mildew in the bathroom or mold in the crawl space, mold and other moisture related damage can be a difficult thing to eradicate, and they can be a huge drain on the wallet.
Clean Crawls, a local crawlspace and attic servicing company, knows this well. Because of this, they've released an educational article focusing on what they believe to be the best insulation option for preventing heat transfer and impeding mold growth—spray foam insulation.
For information on crawl space and attic cleaning or insulation services, follow this link: http://www.cleancrawl.com/services.
"Because 99% of moisture in the home is caused by air transfer, this means that the best way to prevent indoor mold growth is to limit the amount of air leaking through your home," Clean Crawls advises.
Clean Crawls explains that closed cell spray foam insulation can be very effective for reducing the risk of mold in your home. Because this insulating material expands, it can be used to tightly seal any and all cracks and gaps in the structure of a home.
This expanding action, the article explains, minimizes moisture related problems caused by air leakage by filling all the crevices where airborne moisture would otherwise enter.
"Choosing spray foam insulation may seem like a big investment at first. However, you'll not only be saving money each month on energy costs, but you'll be avoiding those larger expenses that always accompany severe moisture damage," Clean Crawls warns.
About Clean Crawls:
Clean Crawls provides attic and crawl space cleaning, weatherization, and insulation services. Homes and businesses alike have the opportunity to be clean and healthy at affordable rates, as well as save energy throughout the year. Visit http://www.cleancrawl.com today for more information and a free quote.
3707 124th St NE
Marysville, WA 98271
(866) 651-1700