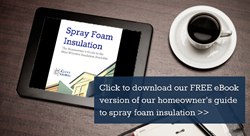 We feel that spray foam insulation is one of the best and most effective forms of insulation available today.
Seattle, WA (PRWEB) August 14, 2014
The newly released eBook from Clean Crawls, a crawl space and attic cleaning and insulation company, answers every homeowners' questions and concerns about spray foam insulation.
Their eBook, available for free download, addresses what spray foam insulation is made of, possible health effects risks for both people and pets, whether it's environmentally friendly, and how it compares to other types of insulation.
"We know that spray foam insulation has become something of a hot topic, what with its initial push as an environmentally friendly option," Clean Crawls says. "We want to provide skeptical homeowners and builders with knowledge about the topic so that they can make an informed decision."
To find out more about Clean Crawls insulation services, follow this link to their website: http://www.cleancrawl.com/
The eBook explains that the materials that spray foam insulation are made from are already likely present in your home, as the chemical constituents are similar to those used in the manufacturing of both upholstery and mattress foam, though the properties themselves may vary.
Once the spray foam insulation has cured, the eBook confirms that no significant type of off-gassing has been discovered. Spray foam, as an inert substance, also remains completely effective indefinitely without any indication of deterioration. Hence, the eBook emphasizes that spray foam is a very environmentally friendly option for homeowners and builders.
Clean Crawls sums up their view of spray foam insulation in this way—"We feel that spray foam insulation is one of the best and most effective forms of insulation available today. Closed cell spray foam insulation is the most thermally efficient insulation product per inch of application. It's incredible insulating capabilities offer environmental benefits, top-notch performance, and reduction of air leakage; it also prevents drafts and protects against moisture."
About Clean Crawls:
Clean Crawls provides attic and crawl space cleaning, weatherization, and insulation services. Homes and businesses alike have the opportunity to be clean and healthy at affordable rates, as well as save energy throughout the year. Visit http://www.cleancrawl.com today for more information and a free quote.
3707 124th St NE
Marysville, WA 98271
(866) 651-1700