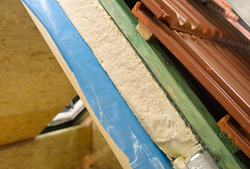 When insulation gets wet, it will most likely require replacement - but this depends on the type of insulation in your home.
Seattle, WA (PRWEB) April 18, 2015
For most people, crawl space cleanliness is not their top priority. But in their latest article, Clean Crawls warns homeowners of the risk of ignoring wet insulation in your crawl space. These crawl space professionals give additional instruction on how to address the issue of wet insulation.
Unfortunately, when fiberglass insulation gets wet, it loses its ability to insulate and becomes a threat to a home's structural integrity. The article states, "Once fiberglass gets wet, it tends to compact and lose its insulating abilities. In addition, wet fiberglass is an ideal breeding ground for mold and pests."
The safest option for dealing with wet fiberglass insulation is to completely remove and discard the damaged insulation. Clean Crawls states, "In most cases, the damaged insulation is not salvageable and should be removed to protect the crawl space from mold and so that new insulation can be installed in its place."
One of the best crawl space insulation options is spray foam insulation. Unlike its counterparts, spray foam insulation is completely water resistant. Because of this, homeowners that invest in spray foam insulation have no need to fear when they have bad crawl space conditions.
Clean Crawls is an attic and crawl space insulation company that specializes in crawl space cleanout, insulation, and restoration services. To have your crawl space inspected today, visit their website at http://www.cleancrawls.com.
About Clean Crawls:
Clean Crawls provides attic and crawl space cleaning, weatherization, and insulation services. Homes and businesses alike have the opportunity to be clean and healthy at affordable rates, as well as save energy throughout the year. Visit http://www.cleancrawl.com today for more information and a free quote.
3707 124th St NE
Marysville, WA 98271
(866) 651-1700