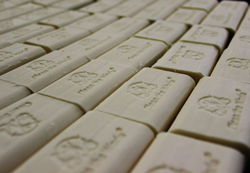 Thousands of people in the US are unable to purchase hygiene products who are at increased risk of contracting harmful diseases. Clean the World Foundation will be providing 1.5 million bars of soap to communities in need to prevent the spread of Coronavirus and the flu.
ORLANDO, Fla. (PRWEB) March 12, 2020
Today, Clean the World Foundation, global leader in water, sanitation and hygiene and sustainability, announced a new endeavor with Feeding America and long-time partner Soapbox. In honor of former Chief Strategy Officer of Clean the World, Michael O'Quinn, who passed away in January, the organizations will be distributing 1.5 million bars of soap to support those lacking access to vital hygiene supplies across the United States to combat the spread of Coronavirus and other diseases travelling the globe.
"This season, the Coronavirus and other illnesses are rapidly spreading through communities and families," says Sam Stephens, Executive Director of Clean the World Foundation. "Everyone knows that one of the easiest and most important ways to combat the spread of these diseases is by washing your hands. However, for thousands across the United States, the reality isn't so simple."
According to the Council of Economic Advisers, over half a million Americans are homeless on any given night – 35% of which go unsheltered, sleeping under bridges and on benches. The hundreds of thousands experiencing homelessness are at a severe disadvantage when it comes to accessing hygiene products, especially when store supplies are depleted. This coupled with the lack of federally subsidized hygiene supplies creates a huge problem for communities at large.
"A healthy society starts at the base-level; protecting lower-income communities from illness is vital to preventing the spread of disease," explains Stephens. "And as the number of Coronavirus cases continues to climb in the U.S., it is imperative that we take action. This is something that Michael [O'Quinn] strongly believed in – we are proud to honor his legacy by supporting those in need."
Soapbox has long been a supporter of Clean the World Foundation's mission and this latest initiative will mark their 10 millionth bar of soap distributed with the Foundation.
"This has been Soapbox's mission since day one - to provide soap to those in need, whether it's around the corner or across the world. Most people are shocked to hear that millions of people in the US are without this basic necessity," said David Simnick, Soapbox CEO & Co-Founder. "We're deeply humbled to have the opportunity to work with these amazing charitable partners and make a real difference in the fight against the spread of Coronavirus and other contagious diseases."
Combining their efforts with Feeding America, the organizations are able to reach over 200 communities across the continental United States.
Having released statements earlier in the month, both the CDC and WHO have adamantly expressed the importance of proper hand-washing. Clean the World Foundation, Soapbox, and Feeding America are hoping that this will bring about a long-term behavior change and support the growth of healthy communities around the world.
For more information on the Coronavirus, visit https://www.cdc.gov.
About Clean the World Foundation
Clean the World Foundation is an international development and global health nonprofit operating hygiene-focused emergency relief initiatives, and WASH (water, sanitation, and hygiene) education programs, targeting vulnerable communities in the United States and around the world. Clean the World Foundation is the 501(c)(3) non-profit sector of Clean the World's social enterprise responsible for all soap and hygiene kit distribution both domestically and globally as part of many of its comprehensive WASH programs. Clean the World Foundation engages volunteers, donors, and other outcome-focused organizations around the world to provide hygiene supplies and education curriculum to support its global health programs. Since 2009, Clean the World Foundation has served over 10 million individuals through its global WASH programs. A copy of the official registration and financial information for Clean the World Foundation may be obtained from the Division of Consumer Services by visiting https://www.fdacs.gov/ConsumerServices. For more information, visit us online: https://www.cleantheworldfoundation.org.
About Soapbox
Soapbox, a line of naturally-derived hair and body care, was founded in 2010 on the mission to empower consumers to change the world through everyday purchases. For every product sold, Soapbox donates a bar of soap to someone in need, with more than nine million bars of soap donated to date. In addition to increasing access to soap to those in need, Soapbox also partners with nonprofits to deliver proper hygiene education around the world. Soapbox is available at major retailers nationwide. Visit https://www.soapboxsoaps.com for more information.
About Feeding America
Feeding America is the nation's largest domestic hunger-relief organization—a powerful and efficient network of 200 food banks across the country. As food insecurity rates hold steady at the highest levels ever, the Feeding America network of food banks has risen to meet the need. Feeding America feeds 40 million people at risk of hunger, including 12 million children and 7 million seniors. For more information, visit https://www.feedingamerica.org
MEDIA CONTACTS:
Sandie Beauchamp
Clean the World
info@cleantheworld.org
407-574-8353