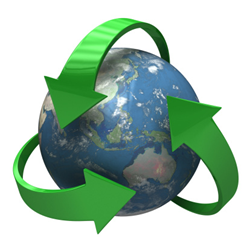 San Antonio, TX (PRWEB) May 07, 2014
Family dentists do more than clean and care for smiles. At least, the team at Encore Dental believes so. Encore Dental has recently begun making great strides to go green and provide an environmentally conscious setting for its staff and patients.
Medical facilities and businesses everywhere are revamping their establishments with newly incorporated initiatives to run an eco-friendly business. This year, San Antonio's Encore Dental is doing the same and going green.
As part of their cleaning and sanitation practices, Encore Dental has implemented the use of green cleaning materials around the office. Various chemical solutions can be comparable to hazardous waste. By using sterilization and cleaning products that are eco friendly, Encore Dental is able to offer a healthier and cleaner environment for patients and staff members.
Encore Dental also now uses a UV light filter in their air conditioning system. Installed UV filters can eliminate up to a third of the energy that is used up while running any HVAC system. The UV filter also helps improve airflow and air quality by preventing the build-up of hazardous and toxic microbial components on cooling coils and duct surfaces.
The use of green cleaning materials around the office and UV filters in their cooling system has allowed Encore Dental the same grade air quality found in most hospitals. This family dentistry facility looks forward to providing happier and healthier green-friendly service for years to come.
To learn more about the newly green Encore Dental, visit http://www.encoredentalsatx.com/default.html or call 210-551-0553 or call 210-551-0553 to schedule an appointment.
Dr. Lilia Martinez Cyr, of Encore Dental Care is a 12th generation Texan and her hometown is McAllen, TX. She graduated from the Texas Academy of Mathematics and Science at the University of North TX (Denton). She received her B.S. in Biology (Magna Cum Laude) from UT San Antonio and received her DDS from the UT Health Science Center in San Antonio with Distinctive Honors in Research.
Dr. Cyr was selected by the American Association of Oral Biologists to receive the Research in Oral Biology Award (2010) for her significant contribution to research in tooth development and the American Academy of Oral Medicine Award for 2010. She is a member of the ADA, TDA, San Antonio District Dental Society, the Academy of General Dentistry, the American Orthodontic Society, and the Academy of GP Orthodontics.