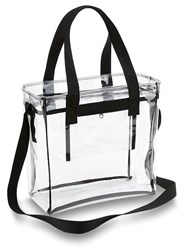 Our business is well-prepared to provide football fans with clear bags that are 'stadium ready' for the upcoming football season
Nashville, TN (PRWEB) September 04, 2013
The National Football League's new clear bag policy may have caught fans by surprise, but one small business owner is successfully meeting the demand for 'stadium friendly' clear bags – and doing it in style.
As those who have already attended pre-season games now know, anyone who tries to enter an NFL stadium with what are now considered 'non-compliant' bags such as a backpack, a purse, or even a fanny pack won't get past the main gate. And with the 2013/14 NFL season kicking off tomorrow, Laura Rottmann, president of Clear Handbags & More, http://www.clear-handbags.com knows it is critical that fans be able to get through stadium security and enjoy the game without worrying about whether their bag will deny them entry.
Rottmann, whose products have appeared on 'The Today Show' and been featured in various articles about the new NFL bag policy, has been selling clear tote bags, clear lunch bags, and clear handbags to her customers who work in retail stores, warehouses, and casinos since 2010. When the NFL announced in June new rules for the types of bags that can and cannot be brought into football stadiums, her company was poised to respond. Foreseeing an increase in demand, she directed her manufacturer to produce more of the stylish, clear vinyl satchels and shoulder purses that have become so popular among her customers.
The new NFL rule mandates that bags must be clear plastic, vinyl or PVC and can't exceed 12" x 6" x 12." Fans can purchase official NFL team logo clear tote bags through club merchandise outlets, but most websites are back-ordered on all of their clear bags through the end of September. "The NFL caught many manufacturers by surprise by making its announcement in mid June," said Rottmann. "We were lucky in that we moved quickly to get an order placed with our factory so that we have inventory now available."
The company's line of clear stadium bags have already been snatched up by hundreds of NFL fans who needed bags for the start of the season. "Our business is well-prepared to provide football fans with clear bags that are 'stadium ready' for the upcoming football season," says Rottmann. "I support the NFL's efforts to make stadiums safer for everyone and am gratified that my company can help fans find the bags they need."
Rottmann adds that this fall the company will be adding new items to their line of fashionable clear bags that will appeal to many NFL fans – women and men alike. The company offers a wide selection of clear stadium bags, clear 12 x 12 x 6 totes, and clear purses, which can be found on their website at http://www.clear-handbags.com.
Clear Handbags & More (http://www.clear-handbags.com) sells see-through fashion handbags and accessories to those who need them for work and sporting events. The company was founded in 2010 by entrepreneur and University of Virginia MBA alum Laura Rottmann, who used to work in a facility that required employees to carry clear bags. Noticing the lack of clear handbags in stores and online, and seeing an opportunity to fill a need, Rottmann created a website and a line of products to meet this demand.