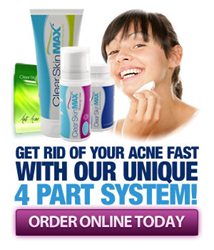 Clear Skin Max is a 4 step solution designed to relieve spots and pimples from the inside and out.
Los Angeles,Ca (PRWEB) November 25, 2013
Finally, nobody has to live with acne anymore. Introducing, a 4-step product set that would effectively get rid of acne and leave users with a clearer, more radiant skin. This newly-released Clear Skin Max acne eliminating system is the ultimate product every that teen and adult is looking for.
Included in the package is the four-step acne-fighting essentials that work together to clear the skin of all imperfections. Each component is made with the most natural, scientifically-formulated ingredients that help clean, clear, and purify the skin deeply and thoroughly. Oil and dirt buildups will be eliminated from the surface for the product's effective healing ingredients to penetrate deeply into the pores. The natural ingredients of the formula include tea tree oil, organic kelp, sweet almond oil, licorice root, and many others.
Click Here To Visit Clear Skin Max Official Website
The four-step formula starts with conditioning the body and the blood stream via the organic kelp supplement that has to be taken thrice daily, preferably before each meal. This supplement, called the Clear Skin Max capsules, is composed of natural sources of vitamins, protein, minerals, amino acids, polysaccharides, trace elements, and antioxidants. With daily use, the body becomes more receptive to the rest of the treatment process.
The second step involves the use of the Clear Skin Max Face Wash. Use it twice daily to attain the desired effect fast. The face wash intends to soften the skin while cleaning out the pores. It contains oats that heal and soothe the skin, while reducing inflammations.
The third step is the Clear Skin Max Balancing Cream, which has to be applied twice daily onto the affected areas. Made with calendula and other natural herbs, it works as an antiseptic. The formula also has both antibacterial and anti-fungal properties. The last step is to take the Clear Skin Max Cleansing and Detox Tea for up to 8 cups daily. This tea cleanses the body from the inside and out.
Follow all of these steps and a clearer, fairer skin courtesy of the Clear Skin Max revolutionary products will be achieved. Clear Skin Max is distributed in the US, UK, and the rest of the world by Marlia Business SA. For more information about the system, visit http://goo.gl/Knh9kx.