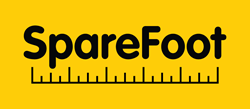 Enter from now until December 15 for a chance to vanquish the clutter that's taking over your life.
Austin, TX (PRWEB) November 21, 2013
Austin-based startup SpareFoot, the country's largest online marketplace for self-storage, is on a de-cluttering mission this holiday season with its latest giveaway.
SpareFoot wants to help consumers win the war against their stuff in the "Clear That Clutter" Sweepstakes. One lucky winner will get up to six months' worth of storage from SpareFoot in the form of a $500 Visa gift card. Consumers can enter from now until December 15 for a chance to vanquish the clutter that's taking over their lives.
It's easy—just visit our Facebook page at http://selfstora.ge/clearthatclutter to enter and start earning points. The more points someone collects, the more sweepstakes entries that someone can receive. Earn points by:
1. Liking us on Facebook
2. Following us on Twitter
3. Showing us some Google+ love
4. Tweeting about the sweepstakes up to once a day to increase the odds of winning
We'll randomly select one winner on December 15, so Tweet, like and +1 now until the deadline for a chance to clear out the clutter once and for all!
The giveaway-entry platform is hosted by Rafflecopter on SpareFoot's Facebook page. Entrants can gain points toward additional entries into the drawing by liking SpareFoot on Facebook, following SpareFoot on Twitter, subscribing to The SpareFoot Blog and visiting SpareFoot's Google+ page.
The winner will be randomly selected and announced December 15.
About SpareFoot
SpareFoot makes renting self-storage easy. Our free marketplace lets customers find and reserve storage units online. We have the largest inventory of storage units in the U.S., with a network of more than 6,500 facilities ranging from mom-and-pop to publicly traded REIT. We reach millions of people who need storage through exclusive partnerships with brands like SelfStorage.com, Apartments.com and Penske Truck Rental.
The Austin Business Journal named SpareFoot the Best Place to Work in the Austin area for 2013, office furniture company Turnstone named SpareFoot one of the country's Best Young Companies to Work For in 2013, and the Austin American-Statesman named SpareFoot the Top Workplace in the Austin area for 2013.
For more information, visit sparefoot.com.