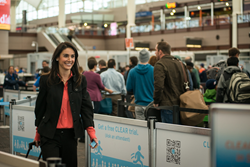 We understand the many pain points and bottlenecks travelers face today and are very excited to ease the stress with this new benefit. - Caryn Seidman Becker, CLEAR's Chairman and CEO.
New York, NY (PRWEB) April 22, 2014
Today, CLEAR launches a new BETA program at Orlando International Airport creating an even more frictionless travel experience. CLEARmembers can now order snacks as they speed through the CLEARlane and have their items waiting for them at a Cibo Express Gourmet Market counter nearest to their gate – eliminating another line for busy travelers. Payments are embedded in the new grab-n-go concessions program so CLEAR travelers don't need to wait at the register to pay. This pilot is initially available for CLEARmembers flying on United and Delta airlines.
CLEAR's technology platform enhances security and delights travelers every time they fly. "CLEAR continues to transform the travel experience for our members. We understand the many pain points and bottlenecks travelers face today and are very excited to ease the stress with this new benefit," stated Caryn Seidman Becker, CLEAR's Chairman and CEO.
CLEAR has partnered with the Orlando International Airport and travel restaurateur OTG to create this pilot program. "We continue to work with CLEAR to create an enhanced airport experience at Orlando International Airport," said Phil Brown, Executive Director of the Greater Orlando Aviation Authority. "With the launch of this pilot program, our airport partner introduces this seamless program for busy travelers that illustrates our goal of delivering an elevated level of customer service."
"We are excited to be partnering with MCO and CLEAR on this innovative approach to service," said Rick Blatstein, OTG CEO. "We are in full support of anything that enables us to better cater to our customers' wants and needs. I think it is great that more travelers will now have access to the abundant selection of fresh and healthy items our Cibo Express Gourmet Markets offer."
CLEAR plans to scale this offering in 2014 to all their locations.
About CLEAR
CLEAR uses biometric technology to identify members and speed them through airport security in under five minutes on average, effectively eliminating lines and transforming travel. CLEAR's secure technology platform delivers certainty of speed and the highest level of service to members at the airport, while also enhancing airport security.
CLEAR operates at San Francisco, San Jose, Denver, Dallas-Fort Worth, Orlando, Houston, San Antonio Airport, and Westchester County Airport in New York. CLEAR has a growing base of over 300,000 members nationwide and has already been used over 1.9 million times. CLEAR is currently expanding to bring its timesaving, secure biometric technology (fingerprint and iris technology) to airports around the country and is now integrated with TSA PreCheck in co-locations. Enrollment is fast and easy and can be done at any of CLEAR's enrollment centers (http://clearme.com/enrollment-centers). For more information on how CLEAR is changing the way people travel, visit http://www.clearme.com.
About OTG
OTG (http://www.anotgexperience.com) is an award-winning airport food & beverage operator with more than 200 restaurants and retail boutiques in 10 airports, including Minneapolis-St. Paul, John F. Kennedy, LaGuardia, Toronto Pearson, Boston Logan, Tucson, Washington National, Orlando, Chicago O'Hare and Philadelphia. Since its entry into airports in 1996, OTG has been recognized throughout the industry for its exceptional customer focus and groundbreaking innovation; growing to become the second largest privately held airport food operator in the United States in just over a decade. In 2014, it ranked among the World's 50 Most Innovative Companies in Fast Company Magazine.