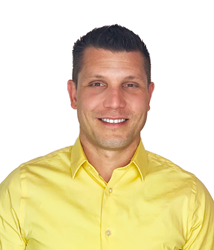 Clear Comfort is proud to be attracting the best and brightest talent to the pool industry.
BOULDER, Colo. (PRWEB) June 19, 2019
Innovative Advanced Oxidation (AOP) pool treatment company, Clear Comfort, proudly welcomed Jeffrey Campbell as its Director of Business Development. At Clear Comfort, Campbell will be responsible for developing and nurturing relationships with dealer partners, buying groups and more.
"Clear Comfort is proud to be attracting the best and brightest talent to the pool industry," stated Steve Berens, Clear Comfort CEO. "Jeffrey is a tremendous addition to our team and fits well with our customer-centric culture and drive for innovative thinking."
"I had the pleasure of personally working with hundreds of pool industry companies for the last four years, learning what makes their businesses work," Campbell said. "The opportunity to join the industry's leading supplier of AOP systems and continue to accelerate their rapid growth is exciting. Most importantly, we are bringing better pool water solutions to the entire industry."
Before joining the Clear Comfort team, Campbell was a Member Business Consultant at United Aqua Group, a Retail Sales Manager at Joplin Pool and Spa and served three years with the PHTA WAVE Young Professionals Network. Recognized for his talent and industry knowledge, Campbell was named the 2017 Young Professional of The Year Award from the Pool and Hot Tub Alliance (PHTA), and is currently a Vice-Chairman of the PHTA Retail Council.
Clear Comfort's AOP systems make commercial and residential pools and spas healthy, easy and enjoyable. Pools and spas using Clear Comfort can have the best water quality possible with minimal chlorine exposure. Clear Comfort has been proven effective in universities, resorts, water parks, YMCAs, hotels, recreation centers, spas and homes nationwide.
To learn more about Clear Comfort's AOP pool and spa disinfection systems, please visit clearcomfort.com/contact.
About Clear Comfort
Clear Comfort manufactures and sells non-chlorine pool and spa water disinfection systems. Clear Comfort's patented hydroxyl-based advanced oxidation (AOP) technology provides the best swimming experience available with proven, effective and non-toxic treatment. With headquarters and manufacturing based in Colorado, Clear Comfort customers receive a sustainable, "Made in the USA" product. Clear Comfort is a proud Impact Driven™ company delivering healthy, ethical and sustainable solutions to the market. For more information about Clear Comfort, please visit clearcomfort.com.