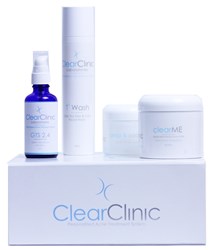 With Clear Clinic @Home and the Clear Clinic Laboratories product line, we are extending these top notch services into the future and beyond New York, making quality acne care accessible to all.
New York, NY (PRWEB) January 07, 2014
Clear Clinic Acne Treatment Center (http://www.clearclinic.com), announces the launch of Clear Clinic Laboratories, the Manhattan-based clinic's line of professional grade over the counter skincare products along with Clear Clinic @Home, their new customized at-home acne treatment program designed to bring high level dermatologic care to straight to your door.
Based on extensive research and patient feedback, Clear Clinic Laboratories sets a new standard for quality care in at-home acne treatment regimens. The proprietary line of 19 unique products is formulated with high-end and effective ingredients so luxurious that, in the past, they have been reserved only for expensive anti-aging products. Not only do the products use only the highest caliber of traditional and botanical ingredients, but Clear Clinic also provides the highest standard of care by offering clients the resources they need to get the most out of their at-home regimen.
As the first complete online personalized professional acne treatment program, Clear Clinic @Home makes care from the most sought-after experts and sophisticated acne treatment products available to all acne sufferers, regardless of location, and empowers clients with specialized acne care from a team of Clear Clinic Personal Acne Coaches™.
Under the direction of board certified dermatologist and acne expert, Dr. Eric Schweiger, Clear Clinic @Home will enable clients to obtain personalized product regimens, interact with acne professionals, receive customized treatment guidance, and track their progress towards clear skin, all through a sophisticated online portal with individualized accounts.
Services Feature:

A new line of 19 high-caliber acne products using the most luxurious and effective natural and traditional ingredients, including more than eight different acne-fighting ingredients in all
Customized treatment regimens tailored to each client
Ongoing acne treatment care and continued guidance from a Personal Acne Coach™
"At Clear Clinic we constantly strive to provide our patients with the best, most innovative and effective acne reduction therapies," said founder Dr. Eric Schweiger. "With Clear Clinic @Home and the Clear Clinic Laboratories product line, we are extending these top notch services into the future and beyond New York, making quality acne care accessible to all."
How It Works
When first logging onto the Clear Clinic website, clients are asked to complete a simply quiz in order to customize their regimen of products. From there, they are enrolled in the Clear Clinic @Home Personalized Acne Treatment Program, which includes monthly consultations and a continuous supply of product. Consultations can be held at the patient's convenience via live video, e-chat, or a telephone call.
For Clear Clinic clients, however, the care won't stop there. Clear Clinic clients can expect their Personal Acne Coach™ to remain active in every step of their progress towards clear skin, including regular consultations, progress assessments and ongoing care recommendations.
The Cost?
$87.50 per month, which includes a constant supply of your regimen, monthly consults with a Personal Acne Coach™ and unlimited email access to your Personal Acne Coach™.
Clear Clinic has three conveniently located Manhattan locations:
Midtown
110 East 55th Street
New York, NY 10022
Flatiron
21 West 19th Street
New York, NY 10011
Financial District
65 Broadway
New York, NY 10006
About Clear Clinic
Dubbed "the blowout bar of acne care" by Style.com, Clear Clinic is the first skincare center to focus solely on the treatment of acne and acne scars. Under the supervision of Dr. Schweiger, Clear Clinic stores and Clear Clinic @Home are designed to make acne treatment more accessible to the over 50 million Americans who suffer from the condition. With three locations in Manhattan, Clear Clinic is equipped with state-of-the-art laser and light treatments as well as cutting-edge products. Clear Clinic is a one-stop-shop for all things acne.