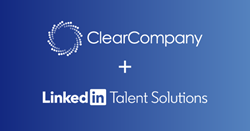 Partnering with ClearCompany helps to further streamline the candidate hiring experience. We will continue to work closely with ClearCompany to provide solutions that deliver even more value for both customers and members. - Lee Womer, Vice President, Business Development at LinkedIn
BOSTON (PRWEB) October 06, 2021
ClearCompany, LinkedIn Talent Solutions Gold Partner and the premier talent management platform for planning and analytics, talent acquisition, employee engagement, and performance management, today announced that its ATS is the first applicant tracking system to provide their customers with LinkedIn Apply Connect. This integration is an expansion of the existing integration with Recruiter System Connect (RSC) between LinkedIn Recruiter and ClearCompany's Applicant Tracking System (ATS).
The new integration between ClearCompany and LinkedIn simplifies the hiring process for ClearCompany customers. Recruiters can quickly post job openings to LinkedIn from within ClearCompany, and choose to enable an on-LinkedIn application experience to reduce applicant drop-off. Completed applications are then populated within ClearCompany. For ClearCompany customers who are also customers of LinkedIn Recruiter & Jobs, real-time LinkedIn profiles will be populated within ClearCompany, creating a more efficient hiring process.
Talent applying through LinkedIn Apply Connect-enabled jobs go through a streamlined and mobile-friendly application experience on LinkedIn. Customers can also enable applicant notifications, sending a one-time automatic notification when a recruiter has viewed their application, downloaded their resume, and/or when the candidate has been rejected.
"Now more than ever, employers need an application process that is fast, easy, and highly accessible to candidates. We're proud to be the first ATS to offer another powerful recruiting tool to our clients with the new LinkedIn Apply Connect integration," said ClearCompany Chief Revenue Officer Brian Campbell. "Clients of LinkedIn and ClearCompany now have access to this robust integration and can offer candidates an improved application experience. We're excited to strengthen our partnership with LinkedIn by bringing LinkedIn Apply Connect exclusively to ClearCompany clients."
"Partnering with ClearCompany helps to further streamline the candidate hiring experience," says Lee Womer, Vice President, Business Development at LinkedIn. "We will continue to work closely with ClearCompany to provide solutions that deliver even more value for both customers and members."
Together, these powerful integrations allow ClearCompany users to leverage LinkedIn Recruiter & Jobs to provide a stellar candidate and recruiter experience, helping them find and hire the best talent in a time of scarcity.
About ClearCompany
For 16 years,​ ​ClearCompany​ has helped companies achieve their missions with software and best practices to plan for, find, and keep hundreds of thousands of ​A​ Players across business cycles. We designed and built a unified platform to deliver exceptional headcount planning capabilities, unparalleled hiring and onboarding experiences, company-wide goal alignment, and performance management that drive companies forward.