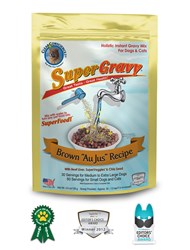 "I have had success getting cancer patients to eat, as well as an elderly dog who was refusing all food, and an elderly cat who was refusing his special diet. Adding a small amount of SuperGravy got them all to eat again..." - Dr. Stacy Robertson, DVM.
Wilton, CT (PRWEB) November 05, 2013
SuperGravy® is a three time award-winning holistic instant gravy mix for pets. It combines with warm water to form an "Au Jus" style brown gravy coating that makes kibble into a warm, delicious, and moist entrée. Clear Conscience Pet will now offer SuperGravy in a new 100 to 200 serving package. In conjunction with the new size, Clear Conscience has started a new rewards club for certified shelters and rescue groups.
The new bulk package is designed for more cost effective use by animal shelters, pet rescue groups, veterinary clinics, pet resorts, boarding facilities, doggie day care, and others who care for larger groups of animals.
Pet nutrition expert and Founder Anthony Bennie announced both the new size option and the "SuperRescue" Rewards Club for non -profit shelters and animal rescue groups. "Dogs and cats in rescue situations can become so stressed that they either eat poorly or refuse food," said Bennie. Rescue volunteers and shelter operators routinely add canned foods for this reason, but canned food is expensive, needs lots of storage space, and creates extra work for volunteers.
The SuperRescue Rewards Club will provide discounts and other rewards for purchases by members.
The "Super" part of SuperGravy refers to holistically balanced "Super Foods." Naturally sourced heart and liver provide protein, vitamins, and minerals; stone milled chia seeds add essential omega 3 and 6 fatty acids; and air-dried "SuperVeggies" contribute immune boosting plant based phytonutrients. There are NO artificial preservatives, flavors, colors, or other additives- just concentrated whole foods blended to create the perfect combination of taste and nutrition. It does this with very low impact on the overall diet at 20 calories and one gram of fat per serving or less.
"When we look at some of the common stomach problems in dogs, we see that most pets suffering from these ailments are 100% dry food eaters. Those who read our Top 10 Secrets of Pet Food Companies paper will see that hydration of dry foods is mentioned in several of the top ten," said Bennie. SuperGravy allows moisture to cling to kibble and transfer water molecules through osmosis. The company states that this results in better digestion, less stomach trouble, and happier animals who are more likely to be adopted as they are physically fortified and emotionally satisfied with their food.
Some of the factors that can contribute to poor appetite are illness and medications, older age, switches to "prescription" diets that are less appealing than regular foods, and just plain old fussiness. SuperGravy® helps break the cycle of constant food switching, which often causes digestive upset as families try to find foods that their animal companions will enjoy. The company reports that a 30 day supply for one pet sells for $10-12, so mealtime can be joyful for pets and less stressful for people for less than 40 cents a day.
For the typical family, canned food can add up to $2 a day compared to 40 cents a day for SuperGravy. And keeping a small pouch of SuperGravy in the pantry clearly wins over lugging The can waste factor illustrates the superior eco-friendliness of SuperGravy. A small pouch can replace a case of canned food, but instead of burning fuel to move millions of cases of cans, a pallet of SuperGravy can replace a truckload of canned pet food used for hydration and palatability enhancement. "This is truly a defining product for the principles of Clear Conscience Pet," said co-founder Amanda Bennie. "It's delicious and nutritious for our companions, it saves money, and it's good for the planet." SuperGravy is available through independent pet food retailers, several online pet food suppliers, and at SuperGravy.com.
About Clear Conscience Pet®, LLC
Clear Conscience Pet® is a multiple award winning pet nutrition company founded with the mission of creating breakthrough products in the holistic pet nutrition category using human grade ingredients from sustainable sources. The company's current products include Sliders® brand tender meat treats, the patent pending OSV™ treat and chew line, SuperGravy®, the first Holistic Instant Dry Gravy Mix and Nutrient Enhancer for pets, and Cruncherz™ 100% Organic Gluten & Grain-Free Bakery Treats. The company is based in Wilton, Connecticut and is family-owned by Founders Anthony Bennie and Amanda Malone Bennie. They currently market their pet food products to pet supply retailers, veterinarians, health food stores, and other pet specialty outlets.
Web address: http://www.clearconsciencepet.com
Facebook page: http://www.facebook.com/Clear.Conscience.Pet.LLC
For video interviews with Founder Anthony Bennie, visit: http://www.clearconsciencepet.com/ccp-tv
About Anthony Bennie, Founder and President of Clear Conscience Pet
Anthony has devoted over 20 years to the natural pet nutrition industry. He started Clear Conscience Pet in 2010 with his wife, Amanda Malone Bennie, a natural pet retailing pioneer and expert in her own right.
Anthony has been published extensively in national and regional consumer and trade print media with articles on all aspects of pet nutrition and the pet care industry. He has been a guest lecturer on the topic of pet nutrition at several veterinary colleges including Cornell University, The University of Florida, and The University of North Carolina. He is frequently featured in pet industry trade publications and has also been interviewed frequently both on television and radio. Recent interview topics include "Natural Pet Food Myths and Facts," "The Truth About Chinese Chicken Jerky," "The Top 10 Secrets that the Pet Food Industry DOESN'T Want You to Know," and the "Confessions of a Dog Food Salesman."
An article written by Anthony, "The Top 10 Secrets of Pet Food Companies", is a cover feature in the November 2013 issue of Animal Wellness. Read the story here: http://www.animalwellnessmagazine.com/articles/inside-information/.