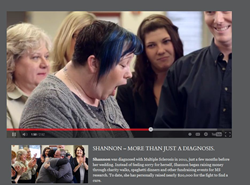 I can't believe Clearview would do this! I've always wanted to go to Paris, but I never imagined it would finally happen.
Moon Township, Pennsylvania (PRWEB) April 23, 2015
Clearview Federal Credit Union continues to surprise their members with gifts and money as part of their "Thanks a Million" initiative and 10th Anniversary Members Matter Celebration. The initiative is aimed at investing $1,000,000 in Clearview members and the Clearview community. Since January, Clearview has given over 15,000 members gifts and cash.
In the first phase of the program, Clearview provided a "thank you" patronage dividend to members. In the second phase, Clearview has given away everything from a trip to Paris to large screen TVs. Some of the highlights of the second phase include:

Member Jairus Moore was presented with a donation to the New Brighton Fire Station, where Moore is a volunteer fireman. Moore, a passionate country music fan, was also given tickets to 11 country music concerts this summer, along with a gift card to Best Buy to purchase some of his favorite electronics.
Member Ed Ames, a Korean War veteran and lifelong Pittsburgh Pirates fan, will get to throw out the first pitch at a Pirates game this summer. Clearview has also reserved a suite at PNC Park for Ed, his family and friends.
Member Shannon Taylor, a 33-year-old who is fighting Multiple Sclerosis, was presented a donation for her MS walk. Taylor, a loyal Pittsburgh Steelers fan, was also given tickets to training camp and an upcoming Steelers game.
Over 600 members were surprised with envelopes containing $50 cash. The envelopes were given out by Clearview's Cash Crew, who surprised members during visits to numerous Clearview branches as well as Robert Morris University, the Carnegie Science Center, a Kuhn's market and two Texas Roadhouse Restaurant locations.
Clearview presented 20 different members with a $2,500 loan payment.
Members who have a birthday or anniversary on September 24 (the day Clearview became a community credit union) were mailed a gift tin containing gourmet toffee.
Other gifts include: a $1,000 gift card for home improvements, big screen TVs, a White Music Man Majesty Guitar, $500 Amazon gift cards, iPads, $250 and $500 Barnes & Noble gift cards, and more.
Clearview is also planning to treat 40 members and their guests to a Pittsburgh Pirates game this summer.
"We recognize that our members have a choice when it comes to selecting their financial institution, and we appreciate that they have chosen Clearview. This is one small way we can show them our appreciation and thank them for their membership and loyalty," said Mark Brennan, Clearview CEO and President.
"I can't believe Clearview would do this!" said member Lisa Zoller, who received a trip to Paris. "I've always wanted to go to Paris, but I never imagined it would finally happen."
Clearview noted that members should keep an eye out for additional "thank you" surprises over the next month. Information about the Members Matter Celebration and Thanks a Million Initiative, including photos, videos and more can be found at Clearview Members Matter website.
Clearview Federal Credit Union has been in operation since 1953 and serves more than 88,000 members, with reported assets valued over $950 million as of February 2015. Membership in Clearview is open to individuals who live, work, worship, volunteer or attend school in the Southwestern Pennsylvania community, which includes Allegheny, Armstrong, Beaver, Butler, Fayette, Greene, Indiana, Lawrence, Washington and Westmoreland counties. Membership is also open to immediate family members of current Clearview members. Visit http://www.clearviewfcu.org for more information. Clearview Federal Credit Union is federally insured by the National Credit Union Administration and is an Equal Housing Lender.