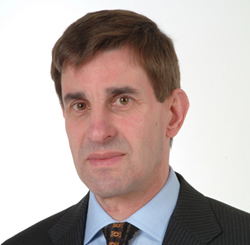 Peter's specific expertise fits well with the team and his recent, extensive in-house experience adds a valuable extra dimension
(PRWEB UK) 4 September 2014
ClearViewIP is delighted to announce that Peter Spours will join the team following his role as Chief Intellectual Property Officer (CIPO) at TomTom. In this role, Peter spent 7 years leading intellectual property, including directing strategy, licensing, risk mitigation, claims and litigation, patent acquisitions and technology-based deals across the TomTom Group. Peter's international experience at TomTom includes management of litigation, arbitrations and transactions in Europe, Japan and US.
"I have known Peter since the early days of ClearViewIP and am impressed by his pragmatic, commercial approach to managing IP challenges. ClearViewIP has experienced rapid growth in recent years, resulting in further internationalisation of our client base, and we continue to increase and adapt our service offerings in line with changes in the IP landscape. Peter's specific expertise fits well with the team and his recent, extensive in-house experience adds a valuable extra dimension," said Jon Calvert, Managing Director of ClearViewIP.
Peter responded: "I am delighted to join ClearViewIP at this point in their growth. The team are highly talented and have demonstrated their value to clients over and again. I look forward to applying my insights and hands-on experience from within major technology companies."
Prior to TomTom, Peter spent two years with ThinkFire Inc, a US based consultancy, directing its European activities; advising major companies and investors on business aspects of intellectual property. Previously, Peter led worldwide patent licensing for BT Group plc. where he was responsible for the commercialisation and management of a 12,000 strong patent portfolio through licensing, enforcement and sales. Earlier, he managed business development for BT's internet business and set up mobile ventures in Asia. He was a director of several mobile phone and internet companies.
Peter started his career in Government and aerospace having read Applied Physics at Durham University. He has written on IP strategy for the International IP Strategists Association (INTIPSA), Intellectual Asset Magazine (IAM) and Lexology and been invited to speak at many events, including: CIP Forum, IP Business Congress (IPBC), Global IP Exchange (GIPE), Global Patent Congress (GIPC) and Imperial College's 'Best Practice' series.
Peter's IP expertise and extensive board-level experience in leading multinational technology companies, coupled with his international vision and network, will fully compliment the next phase of ClearViewIP's growth.
We welcome him to the team.
About ClearViewIP
ClearViewIP is an international intellectual property consultancy and patent brokerage providing a comprehensive range of services to high-tech markets through strategy, management and transactions. Using our proven commercial experience, we help our clients develop their IP strategy, establish effective processes and realise value from their intellectual property. ClearViewIP have experience of working with FTSE and Fortune 500 companies, as well as smaller enterprises and academia, across a range of market and technology sectors.