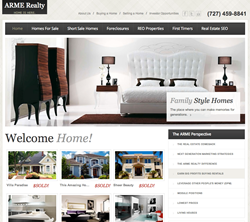 Pinellas County, FL (PRWEB) August 02, 2013
A local Pinellas County online advertising firm ARME Realty.com releases their latest local real estate search engine marketing programs for local real estate professionals throughout the area.
The company principals live and work in the Clearwater, FL area and have an intimate knowledge of the local market. In addition, their extensive experience in the arena of online real estate marketing fits perfectly with the needs of local brokers who wish to use the local internet space to generate home buyer or listing leads.
"The fact is, in 2012, 90 percent of home buyers searched online during their home buying process. Just on Google alone, real estate related searches on Google.com have grown 253 percent over the past four years. We are able to learn more about how buyers are using specific online tools during different phases of their home search process, and as marketers we are also using specific tools to direct those visitors to our clients' websites," states Simon Landers, spokesperson.
He goes on to say, "This much we know. Real estate shoppers will perform an average of 11 searches prior to taking action on a real estate site. Home shoppers using search engines are nine percent more likely to take an action on a real estate brand website than those who do not search. 52 percent of actions on a real estate brand site come directly from a local search engine. Our job is to simply turn all of these stats into new home buyers and new listings for our clients."
Today's home shoppers are likely to conduct their research both online and offline. Real estate consumers who use the internet while researching a home are more likely to use multiple sources. When a Pinellas county real estate professionals decides on a local company to use for their online marketing efforts, it's important to use a company with local knowledge of the market landscape as well as a company who knows how to keep your listings on the various website outlets necessary for heavy foot traffic.
To learn more about ARME Realty.com and their Pinellas county real estate internet advertising programs, contact the firm at (727) 459-8841.