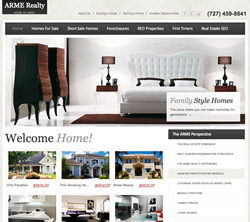 Clearwater FL (PRWEB) August 24, 2013
ARME Realty.com, a Clearwater FL based real estate internet marketing company, has announces their service comparison challenge for real estate professionals who have been looking for a real estate internet marketing solution.
The company offers a comprehensive internet marketing plan at $199 per month flat fee. The service includes:

Email list marketing and management
Virtual tour production and distribution to top video portals
Search engine optimization
Press release writing and distribution for top 5 listings
Optional MLS integration
Comprehensive local real estate keyword analysis and implementation
Setup and management of over 300 social network accounts and blogs
The company is issuing a challenge for prospective clients. They are challenging prospects to find another company offering the same exact lineup of services for the same low price. If the customer can find it, the company is offering one year of service at no cost to the customer.
"Our challenge is simple," states Simon Landers, spokesperson. "If you can find another company offering the same exact spread of services for the same low price, we will not only match that but go one better. We will provide services for one year free of charge. It's a challenge sure to get the wheels turning."
The company specializes in localized internet marketing. They target their marketing efforts towards the cities, zip codes, and neighborhoods where local customers are located. This approach allows the realtor to zero in on the exact locations of where they would like to do business.
For more information about ARME Realty.com and their programs contact the company by visiting their website or call their hotline at (727) 459-8841.