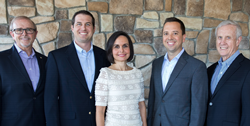 Clearwater, FL (PRWEB) February 19, 2019
Clearwater Dental Associates is opening its doors for those who need dental implants but have been told that they do not have the proper amount of bone to support a dental implant long-term. Specifically, the team of innovative dentists is offering in-office bone grafting to improve the strength of the jaw bone.
Gum disease and untreated tooth loss commonly cause bone loss. If a tooth is extracted or falls out and is not replaced quickly, the natural tooth root is no longer present to stimulate healthy bone growth in the jaw. As a result, the bone begins to recede, eventually affecting surrounding teeth and causing further tooth loss.
Dental implants are the preferred permanent method to replace missing teeth, or teeth that have had to be extracted. However, single or multiple dental implants may not be feasible if patients lack enough bone density to support the implanted posts. In those cases, Drs. Matthew Burton, Keith Kiskaddon, Nolan Allen, Maria Hernandez and James Hayslett at Clearwater Dental Associates may be able to perform a bone graft in Clearwater, FL.
Bone grafting is a proven, safe way to attach bone matter to an area lacking enough bone strength. Over time, the grafted bone material fuses with the existing bone, creating a stronger, more reliable foundation for a dental implant. When offered by skilled dentists, like those at Clearwater Dental Associates, patients can expect excellent, lasting outcomes.
The bone grafting process starts with a consultation to determine how much bone matter is needed and what treatment solution is preferred to boost stability and longevity. A ridge augmentation is frequently offered after a tooth extraction in order to recreate the structure of the alveolar ridge in the jaw to the proper height and width. A sinus lift or augmentation is another type of bone grafting procedure that lifts the sinuses behind the cheekbones and places enough bone matter to effectively place a dental implant in the upper arch of teeth.
In some cases, dental insurance may pay for all or a portion of a bone graft. If this is not a possibility, Clearwater Dental Associates offers payment options and financing advice to make the dream of dental implants a reality.
Those with missing teeth, a sunken in facial shape or know that they do not qualify for dental implants as a result of their low bone density are encouraged to contact Clearwater Dental Associates for a consultation at 727-797-8800 to discuss receiving a bone graft in Clearwater, FL.
About the Dentists
Clearwater Dental Associates is a team of leading dentists serving patients in the Clearwater area for over 30 years. Drs. Matthew Burton, Keith Kiskaddon, Nolan Allen, Maria Hernandez and James Hayslett offer comprehensive services, allowing patients to receive all of their dental care at one, state-of-the-art facility. A 17-seat practice with over 20 team members, Clearwater Dental Associates provides leading care including dental implants, Invisalign®, sedation and general dental care. A patient-centered practice, each doctor and team member is dedicated to patient comfort and education. To learn more about Clearwater Dental Associates or to schedule a personalized appointment, call 727-797-8800 or visit http://www.cdadental.com.