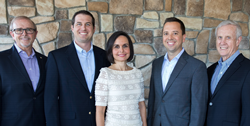 CLEARWATER, Fla. (PRWEB) March 27, 2019
Drs. Matthew Burton, Keith Kiskaddon, Nolan Allen, Maria Hernandez and James Hayslett of Clearwater Dental Associates welcome patients for tooth extractions consultations. After more conservative solutions are unable to resolve tooth pain, infection or damage, this team of dentists may recommend a tooth extraction at their Clearwater, FL practice. Using precise and minimally invasive care whenever possible, this trusted team also offers sedation dentistry for patients' comfort.
While conserving natural teeth is always preferred, extractions are occasionally necessary. Severely decayed or damaged teeth often cause patients mild discomfort or severe pain and may need removal. Other circumstances necessitating tooth extraction are impacted wisdom teeth. If teeth that should be extracted are left untouched, they may lead to more serious health problems including gum disease, further tooth decay, bone loss and whole-body system complications.
Each dentist practicing at Clearwater Dental Associates uses modern, gentle approaches to tooth extraction. Not only does this give patients better outcomes, but it causes less trauma to surrounding bone and soft tissue. After a tooth extraction, patients may want to consider long-term tooth replacements such as dental implants.
Dental implants are the only permanent and natural-looking method to replace one or more missing teeth. These restorations provide a full return to dental function and appearance and can last 20 years or longer with proper care. In some cases, patients may be able to schedule a tooth extraction and dental implant placement surgery on the same day. Strong candidates for dental implants should have the bone density to support implant surgery. However, those without supporting bone may choose bone grafting procedures to allow them to enjoy the benefits of dental implants after a tooth extraction.
Individuals in need of a tooth extraction in Clearwater, FL, can call 727-797-8800 to schedule an appointment with a dentist at Clearwater Dental Associates.
About the Dentists
Clearwater Dental Associates is a team of leading dentists serving patients in the Clearwater area for over 30 years. Drs. Matthew Burton, Keith Kiskaddon, Nolan Allen, Maria Hernandez and James Hayslett offer comprehensive services, allowing patients to receive all of their dental care at one, state-of-the-art facility. A 17-seat practice with over 20 team members, Clearwater Dental Associates provides leading care including dental implants, Invisalign®, sedation and general dental care. A patient-centered practice, each doctor and team member is dedicated to patient comfort and education. To learn more about Clearwater Dental Associates or to schedule a personalized appointment, call 727-797-8800 or visit http://www.cdadental.com.