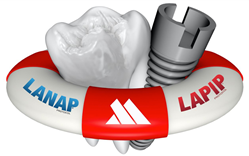 Peri-implantitis is treatable, especially if the infection is treated early.
CLEARWATER, Fla. (PRWEB) May 30, 2019
"If you have dental implants, you're expecting them to last a many years, or perhaps a lifetime, says Dental Implant Specialist Dr. Todd Britten, "In most cases they do, giving patients a fully restored, beautiful, functional smile. But experts estimate between 3-20% of implants fail."
Dr. Britten explained that implant failure is often due to peri-implantitis – which is a threat to the lifespan of dental implants. "Peri-implantitis is gum disease around an implant that is not reversible without intervention by a periodontist or dental implant specialist."
According to Dr. Britten, signs of moderate-advanced Peri-Implantitis include:
SWELLING IN THE GUMS
IMPLANT MOBILITY
BLEEDING GUMS
CHANGE IN GUM COLOR SURROUNDING IMPLANT
HIGH GUM SENSITIVITY
IMPLANT EXPOSURE (GUM RECESSION PREVENTS ADHERENCE TO THE IMPLANT OR CROWN SURFACE)
MILD TO SEVERE PAIN AROUND IMPLANT SITE
EXCRETION OF PUS FROM THE IMPLANTS SURROUNDING TISSUES
The good news, he states, is that peri-implantitis is treatable, especially if the infection is treated early. One way he treats infected implants is using LAPIP®, which is a minimally-invasive method of laser gum disease treatment for implants that helps regenerate healthy tissue instead of destroying it. For many people who have dental implants, Britten says, "LAPIP® is an excellent solution for gum disease around implants, also known as "peri-implantitis"."
"There are several treatment options for peri-implantitis," Dr. Britten says. "Surgery or laser procedures are the most common, and of the two, laser treatment is by far the least invasive. LAPIP is similar to LANAP, the procedure used to treat periodontitis."
He went onto explain that the gum tissue surrounding an implant can become thin, and expose the threads of the implant surface below. In this case, Dr. Britten has developed a state-of the-procedure which combines use of the PerioLase laser to destroy bacteria, decontaminate the implant surface and surrounding tissues, and reduce inflammation. Dr. Britten can then perform a procedure to graft tissue around the implant in such a way as to cover the exposed portion of the implant, however, the main objective is to re­establish the protective barrier or layer of the gum around the implant.
Britten Periodontics & Implant Dentistry is a periodontal practice offering patients personalized dental care in implant dentistry and periodontics in Clearwater, Florida. Dr. Todd Britten offers sedation dentistry. For more information, visit http://www.brittenperio.com