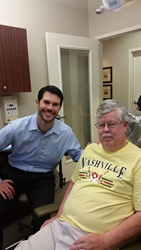 Veterans make the ultimate sacrifice for our country... Many of us ask ourselves, "What can we do?", "How can we make a difference?" That's exactly what I asked myself.
Clearwater, Florida (PRWEB) September 03, 2017
Dr. Todd M. Britten and the team at Britten Periodontics & Implant Dentistry is gearing up for their 3rd annual Free Dental Day for Veterans. The event is scheduled for November 3rd, 2017.
"We all know someone who has served or is currently serving in the military. We have heard stories, we have seen families living apart during deployments, we have seen veterans with disabilities both physical and emotional, we have seen families devastated by the loss of loved ones. Veterans make the ultimate sacrifice for our country," said Dr. Todd Britten. "Many of us ask ourselves, 'What can we do?', 'How can we make a difference?'"
Dr. Britten said that is exactly what he asked himself in 2015. He and his team were brainstorming idea for how they could use their skill set to pay it forward to others in the Clearwater community. "Both of my grandfathers served in World War II and I remember hearing stories both from them and my grandmothers about what life was like during those times. The sacrifices made by veterans and their families are truly astounding. I was aware that dental coverage for veterans was very hard to attain, so we hit the ground running trying to deliver periodontal care to as many veterans as we could."
Jennifer Daly, a surgical assistant at the practice served in the Airforce, "I am very proud of my service to my country and I am even more proud of this dental work that we are doing for my fellow veterans."
The inaugural year the Clearwater, FL based periodontal practice provided over $10,000 worth of comprehensive dental treatment to a group of veterans, the following year over $15,000, "As word has gotten out, we have had an incredible response from the community and even were able to get the skilled and compassionate restorative dentists at Clearwater Dental Associates, Dr. Jim Hayslett, Dr. Keith Kiskadden and Dr. Matt Burton on board to help out with our event." Stated Britten. "Having the Dentists and staff at CDA involved enables us to provide more comprehensive care to our veterans. Being a periodontist, my specialty is really the surrounding structures of the teeth; roots, gum and bone. My job is to help with the foundation. Having the restorative specialists at CDA involved helps us to treat the whole mouth and really deliver comprehensive care to these veterans."
For Britten and his team this event is something they look forward to all year long. They even keep in touch with many of the veterans. "What I've enjoyed the most about this event over the past two years is the friends that we have made. My respect for servicemen and women has simply increased. Hearing their stories and getting to be a part of their health journey has been a very rewarding experience."
This sentiment was mirrored by everyone on Britten's team, "This is such a feel good event. I really enjoy getting to know all of the veterans. Their stories will bring tears to your eyes, and we are all so grateful to be able to pay it forward," stated Ellen Byrd, a registered dental hygienist who has been in charge of scheduling and planning the event. "We have been working closely with the Community Dental Clinic, the Homeless Emergency Project, and social workers from local V.A. Branches.
Britten Periodontics and Implant Dentistry is currently doing initial exams on veterans to get them scheduled for treatment. "If you know of any veteran in serious need of dental care, please get in touch with their office right away, as these spaces are filling up quickly," Ellen Byrd said.
Britten Periodontics & Implant Dentistry is a periodontal practice offering patients personalized dental care in implant dentistry in Clearwater, Florida. Dr. Todd Britten received his Bachelor of Science & Doctorate of Dental Surgery from University of Florida, a Master's Degree and Certificate in Periodontology and Implant Dentistry; and completed extensive training at the Institute of Advanced Laser Dentistry. He is one of the only board-certified periodontists in Pinellas County. He is a member of the American Academy of Periodontology, American Dental Association, Florida Association of Periodontists, Upper Pinellas County Dental Association, Hillsborough County Dental Association, Hillsborough County Dental Research Association and Florida West Coast Dental Association.