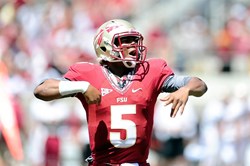 (PRWEB) October 17, 2013
Two days. Two top five teams. The ACC clash the nation has been waiting for has finally arrived, and both teams are undefeated for it. Number 3 and number 5 will meet. One will win, one will lose, who will it be, and who will be there to watch it? Join me at the first top five matchup and one of the biggest regular season games of the year at Clemson University on October 19th by buying college football tickets at http://www.Ticketmonster.com.
Florida State will be traveling to Clemson for what is now one of the biggest ACC rivalries. Since 2005, both teams have been playing against each other every year in the ACC's Atlantic Division. Since the two teams have begun playing each other in 1970, FSU has 18 wins, and Clemson has 8. However, 6 of those Clemson wins have come in the past 10 years, meaning FSU only has 4. For the past few years, it is generally known that the winner of this single game will most likely end up at the ACC championship, then the Orange Bowl. This year, the stakes are slightly higher, as the winner of this game has a good chance of going to the BCS National Championship game. The Seminoles have only won the championship two times, while Clemson has one only once.
This 2013 competition is bringing a lot of attention, mainly to the two quarterbacks that will be competing. In the Heisman trophy candidate polls so far, Clemson's quarterback is ranked at number 2, and Jameis Winston of FSU is ranked at number 5.
Season stats: Tajh Boyd: 93 of 141 for 1,449 yards. 14 touchdowns, two interceptions
Season Stats: Jameis Winston: 90 of 123 for 1,441 yards. 17 touchdowns, two interceptions.
The two quarterbacks, according to the stats, seem almost very equal. There are some differences, however, and key factors that will make the two stand out during Saturday's game. Boyd is a senior, and not only has years of experience under his belt, but this year already has a huge win against Georgia. Winston, however, is a freshman, but has not been playing like one. The only downside here is that Winston is inexperienced, and has not played a top 20 team yet in 2013. Beating the Tigers will most likely shoot this youngster to the top of the Heisman polls, and would make him more famous than he already is.
In Winston's last game, the freshman was golden. FSU played Maryland in an ACC game that ended badly for the Terps. Winston and the rest of the FSU offense absolutely slaughtered Maryland, while their defense held their own. Jameis finished with 393 passing yards, five touchdowns, no interceptions, and completed 23 of 32 pass attempts. Florida State had 614 total yards on offense, and won the game by a crazy score of 63-0.
This game is one of the biggest of the season, and Clemson/FSU fans can be there to watch. Tickets are still available at Ticket Monster, but are surely going fast. Ticket Monster has the best tickets at the best value for this top 5 game.
Buy your Clemson-FSU tickets at http://www.Ticketmonster.com.