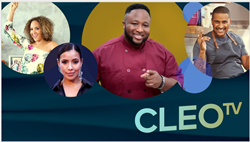 "We are thrilled to announce this distribution deal with fuboTV," said Michelle L. Rice, President of TV One and CLEO TV. "We have built a loyal fanbase and can now offer additional viewers ways to access the extraordinary lifestyle, culinary and entertainment shows for which CLEO TV is known."
SILVER SPRING, Md. (PRWEB) April 14, 2022
TV One Networks' CLEO TV announced today a distribution agreement for fuboTV to carry its programming. Starting today, CLEO TV will be available in fuboTV's "Pro" package. The inclusion of CLEO TV complements fuboTV's diverse offerings, which in addition to its robust sports packaging, features news and entertainment programming. CLEO TV offers lifestyle content targeting young women of color.
"We are thrilled to announce this distribution deal with fuboTV," said Michelle L. Rice, President of TV One and CLEO TV. "We have built a loyal fanbase and can now offer additional viewers ways to access the extraordinary lifestyle, culinary and entertainment shows for which CLEO TV is known." CLEO TV is on a strong performance streak with consecutive weeks of growing viewership. Additionally, the ability to access CLEO TV on the fuboTV platform continues to position the channel as a go-to destination for diverse viewers to watch programs that represent their cultures – both in front of and behind the cameras.
fuboTV is one of the fastest-growing live TV streaming platforms, reaching 1.13 million subscribers by the end of 2021.
CLEO TV ORIGINAL PROGRAMMING
"Cleo Chronicles" is a fun, sleek magazine-format series showcasing today's hottest influencers living their best lives! Each 30-minute episode will highlight how real women (who happen to be social media darlings) navigate the many facets of life (beauty, fitness, finance, dating, etc.) in the virtual space and real world. From self-care to homeschooling to working remotely, these ingenious pioneers show audiences the myriad of talents while juggling many roles and getting them all done, every day.
"Cleo Speaks" is a candid series that gives dynamic women a platform to share their unique experiences and perspectives on issues facing Millennial and Gen X women of color today. Inspirational and aspirational speakers sound off on a variety of topics, including motherhood, fashion, relationships, wellness, politics, arts, social justice, business and more. A revealing tale of personal and emotional journeys that have shaped the careers and influenced the success of today's true modern leaders–these dynamic women share their hopes, dreams and struggles.
"Culture Kitchen" host Chef Bren Herrera delights viewers with her infectious personality and Afro-Latina flair, as she shares bright, flavorful recipes, and stories from her travels abroad.
"Decor Remixed", hosted by Dominique Calhoun, takes viewers on a journey through Philadelphia with clients who have yet to realize their space's full potential. Stretching the budget to deliver more of a makeover than clients believe are possible, Dominique, along with her network of makers and artisans, gets creative to deliver a space beyond the clients' wildest expectations.
"Global Gourmet" host Essie Bartels highlights flavorful dishes, spice mixology and West African cuisine as she takes her viewers on a delectable journey. Essie's cooking expresses her passion for food and people, believing that spice is the anchor to a great dish. Essie's vibrant upbringing in Ghana, her world travels, and entrepreneurial spirit all deliver incredible dishes bursting with delicious flavors.
"Life Therapy" is a one-hour series that showcases people's emergence from the shadows of unhealthy habits and unhappy lives. Famed actress-turned-healthy-life coach, AJ Johnson is swinging the door open for those who dare to change course and get on a healthy life journey. Collaborating with mind, body, and soul experts, AJ guides clients to become the best version of themselves.
"Just Eats with Chef JJ," stars Harlem based Chef JJ. The well-known culinary artist makes succulent meals while having entertaining conversations in the kitchen with his famous friends.
"Living by Design with Jake and Jazz," a series hosted by the Smollett siblings, transforms living, work and play spaces of millennial families by creating simple solutions to everyday design dilemmas.
"New Soul Kitchen" stars culinary celebrity Chef Jernard Wells who brings his soul food recipes with a healthy twist. Chef Jernard brings a warm smile, southern hospitality and plenty of laughs in each episode, returning with savory meals and healthy alternatives to southern cooking. Culinary superstar, cookbook author and family man Chef Jernard Wells continues serving up exciting new recipes and tasty tips for eating better and mixing up flavorful concoctions in the kitchen.
"New Soul Kitchen Remix" stars CLEO TV fan favorite, Chef Jernard Wells, as he whips up quick mouthwatering, easy recipes in this 15-minute series that serves as a companion to New Soul Kitchen. The recipes may be short on time but are guaranteed to be full on flavor!
ABOUT TV ONE NETWORKS
TV One Networks is the hub of black culture and entertainment with a broad offering of original programming and classic series, serving both diverse audiences for TV One and CLEO TV. Launched in January 2004, TV One currently serves 43 million households and CLEO TV, launched in January 2019, is the sister network with a 34.9 million household reach. Each network has a unique audience that serves viewers with fan favorites from TV One such as Unsung, Uncensored, Fatal Attraction, ATL Homicide, Life therapy, Don't Waste Your Pretty and Urban One Honors. While CLEO TV, a lifestyle and entertainment network targeting Millennial and Gen X women of color, delivers content that uplifts and inspires today's modern-day woman. Viewers of CLEO TV can expect award-winning content in both original and acquired series including Culture Kitchen, Living by Design, New Soul Kitchen, Just Eats with Chef JJ, Tia Mowry's Quick Fix and All Things Adrienne House to Home. Both networks are solely owned by Urban One, Inc., formerly known as Radio One, Inc. NASDAQ: UONE and UONEK, http://www.urban1.com, the largest African-American owned and operated multi-media company.