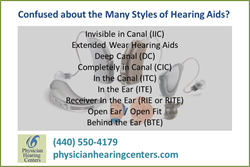 Cleveland, Ohio (PRWEB) October 17, 2013
Investigating hearing aids can be challenging for the novice buyer because there are so many different types and numerous different acronyms employed to describe them. Physician Hearing Centers hopes that the list of standard hearing aid designs and vocabulary recently added to their internet site will help Cleveland residents better appreciate their hearing aid options.
The following major hearing aid styles are included in the list, which is presented on the website in order from smallest to largest size: Invisible in Canal (IIC), Extended Wear Hearing Aids, Completely in Canal (CIC), In the Canal (ITC), In the Ear (ITE), Half Shell (HS), Receiver In the Ear (RITE) or (RIE), Open Ear / Open Fit and Behind the Ear (BTE).
When all the hearing aid types are shown side by side, it is easy to see the reason why consumers have difficultly differentiating them. Several of the names and acronyms are very similar. The quick reference guide created by Physician Hearing Centers is a first step in clearing up some of that confusion. Once buyers understand the main types of hearing aids, the s at Physician Hearing Centers encourage making an appointment with a hearing care expert. The Audiologists help shoppers narrow the options by asking about lifestyle, activities and the surroundings in which the hearing aid will be worn. These are all essential aspects in selecting the right hearing aid.
About Dr. Bert Brown, MD
Otolaryngologist, Dr. Bert Brown MD has been a practicing ENT physician for over 25 years – devoting his career to helping people with hearing challenges. He is the owner of Physician Hearing Centers and inventor of the SER™ Fitting Room, a room which simulates the sounds of the real world allowing hearing aid patients to get a better preview of the performance of their hearing aids in various settings and get a better overall fit and individualized adjustment. Dr. Brown completed his Bachelor of Arts degree at Northwestern University where he received the Phi Eta Sigma and Phi Beta Kappa awards. He earned his Medical Degree from the University of Cincinnati and completed his residency in Otolaryngology at the University of Pittsburgh Eye & Ear Hospital.
About Physician Hearing Centers
Physician Hearing Centers offers a unique experience in hearing healthcare because of the physician-driven, audiologist-directed structure of the practice. For patients, it means no more bouncing back and forth between your medical doctor (ENT/Otolaryngologist) and your audiologist. Physician Hearing Centers has both to provide more coordinated and comprehensive hearing care. They have been the leaders in hearing protection, diagnostic hearing loss testing and hearing aids in Cleveland and Macedonia OH for over 25 years. Physician Hearing Centers professionals are dedicated to keeping abreast of the latest improvements and technological advancements in the hearing industry and are committed to offering the most current options to patients. Physician Hearing Centers has two locations in the Mayfield Heights area of Cleveland and in Macedonia, Ohio.
Contact:
Dr. Bert Brown, MD
http://physicianhearingcenters.com
Physician Hearing Centers
6770 Mayfield Road, Suite 210
Cleveland, OH 44124
(440) 550-4179
Physician Hearing Centers
640 East Aurora Road
Macedonia, OH 44056
(330) 400-3916