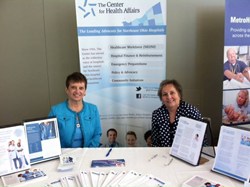 Cleveland, Ohio (PRWEB) July 15, 2013
In an effort to reach future healthcare workers, The Center for Health Affairs workforce initiative, NEONI, participated in a healthcare career awareness event at the Cleveland Convention Center grand opening Saturday, June 15.
Pam Waite, director of healthcare workforce and NEONI operations, and Sue Zagula, director, placement services, NEONI, staffed NEONI's table at the event and were available to answer questions. Waite also led an informational session about work ethic and professionalism.
"Most of the individuals who stopped by our table were interested in information about our Nursing Forecaster, a tool that accurately predicts the future nursing workforce needs for the Northeast Ohio region," Waite said.
Formerly known as the Medical Mart, the Global Center for Health Innovation and the adjacent Cleveland Convention Center had their ribbon-cutting ceremony Friday, June 14 and were open from 10 a.m. to 4 p.m. on Saturday, June 15 for free public tours. Nearly 40 organizations participated in this healthcare career event, and hundreds of people attended.
The Global Center for Health Innovation is the only facility in the world that displays the future of health and healthcare presented on four floors. The new space will incorporate health care innovation, technology, education and commerce. It will hold numerous meetings, conferences and trade/consumer shows already scheduled through 2015.
For more information regarding the Cleveland Convention Center healthcare event, please contact Pam Waite at pamela.waite(at)chanet(dot)org or 216.255.3650.