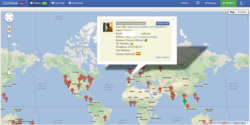 View visitors on a real-time map and initiate chat instantly.
Sunnyvale, CA (PRWEB) July 09, 2013
ClickDesk, a hosted combo of live chat, help desk, voice chat & social toolbar for online businesses, today announced the addition of a new major feature - live website visitor tracking for its web based chat panel. Recently, ClickDesk released a webchat panel for agents to answer chats and help desk tickets directly.
"Visitor tracking and allowing agents to chat with website visitors in real-time is a feature we have been working on for the past few days. Since the launch of webchat in beta, we are adding new features almost every week," says Manohar Chapalamadugu, CEO of ClickDesk.
Clarifying to one of the questions, he answered, "This is not a replacement to analytics code provided by other services such as Google Analytics or Clicky. While these services have a complete record of the entire visitor data for a period of time, ClickDesk only shows live visitor tracking on a world map for the agents logged in, so that these agents can view the details in real-time and invite visitors to chat with a click instantly. Website visitors can accept/decline the chat invite popup initiated by an agent online. The details shown on the real-time map in agent's webchat panel include visitor's name, email, geolocation, ip address, browser & OS details. If a visitor is already engaging with an agent, the pointer on the map appears in green color."
With ClickDesk's extremely simple setup process, businesses can instantly start chatting with their web visitors through Skype, Google Talk IM or by using webchat portal. Agents can view visitors online, answer chats & tickets from any browser using the webchat. Desktop notification is a new addition to the webchat to alert agents when a new chat or ticket is received.
The live chat widget interface also includes a first-of-its kind social toolbar, enabling users to Tweet about a brand or like a Facebook page right from the chat window. Clickdesk offers a free forever plan, while paid plans start at $9.99. ClickDesk is the only provider in the industry offering 99.95% uptime guarantee across all plans.
About ClickDesk
ClickDesk is a web-based, multi-channel customer engagement application offering live chat, help desk, voice chat, & social media toolbar. Over 70,000 startups and small businesses use ClickDesk everyday to convert their visitors to happy customers. ClickDesk has offices in Sunnyvale and Hyderabad.